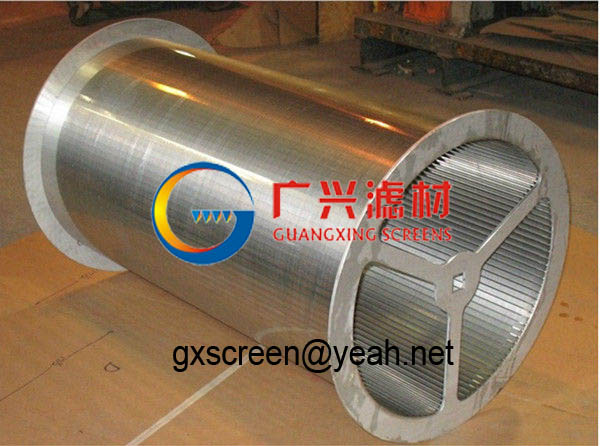 intake traveling water screen and Drum Intake Screens
December 8, 2017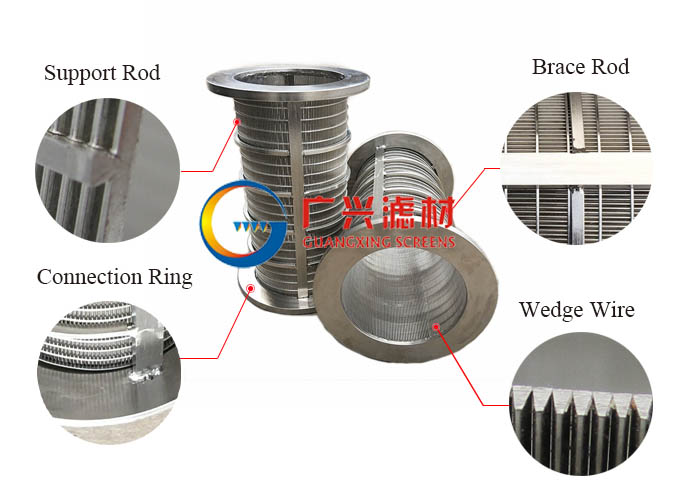 Slotted wedge wire screen for screw press separator
December 12, 2017
1.The Stainless Steel Johnson wedge wire screen Filter is used throughout the world for water, oil, and gas wells, and for environmental well completions. It is the dominant screen type used in the water well industry.
2.This type of screen made up of rods and warp.the rod can be round wire,triangular wire and trapezoid wire.
3.The wire is welded to the rods and produces a rigid unit that has high strength and minimum weight.
4.The warp is triangular wire(v-shape wire).The water well screens have astructure and high open area;as well as accurate slot dimension.
5.Water well screen have heat -resising,anti-corrosive,good machine capability,last long ,satefy and reliability and so on.
Features of Stainless Steel Johnson wedge wire screen Filter:
adoption of the wedged wires made a V profile slot. This design ensures the fluent of water filteration and more effective
wedged wires are spirally wound around a cage of longitudinal support rods in succession which formed high-density uniformed slots and avoid clogging. So that the high production efficiency and long life service of the well are gaurenteed.
arrangement of the longitudinal support rods and the successive slots provide higher compressive property
Material

SS304, SS304L, SS316, SS316L, SS321, Duplex, Hastelloy, etc
OD Range
19mm-2000mm
ID Range
13mm-1981mm
Length Range
Up to 6000 mm
Slot Range
20 micron to 3000 micron (Tolerance:+-5 micron)
Wedge Wire
0.5×1.5
0.75×1.5
1×2
1.5*2
2×3
2*4
3*5
Support Rod
1.5×2.5

2×3

1.5×2.5

2×3

1.5×2.5

2×3

1.8*2.5

2×3

2×3

2×4

3×5

3×6

3×10

4×7

2×4

3×5

3×6

3×10

4×7

5×6

3×5

3×6

3×10

4×7

5×6

5×8

End Finishing
Flange, Metal Ring, Cross Connector, closed, etc
Note
Customized According To Requirement
Applications for filtration include self cleaning filters, high temperature strainers, underdrains for media tanks, extruders, and waste water screens. Wedge wire screens can be made in flat panels, baskets, cylindrical tubes and cartridges.
used for the water-treatment , water well drilling ,oil well drilling ,mineral processing, coal-cleaning plant ,sewage treatment and other industries,water,oil or gas filter and other filtration equipment.
Hengshui guangxing screens co.,ltd founded in 2010,is a major manufacturer and supplier of vee wire welded products for professional end-users in the world.It is equipped with modern machines and latest technology for the manufacture of high quality welded wedge wire screens in various shapes and size .We have been recongnized for our excellence in customer solutions creativity flexibility and no nonsense mentality coupled with short delivery time and competitive price.We keep the quality according to the ISO 9001:2008 standard to let the customers satisfy.High quality and competitive price and delivering on time is our aim.We believe that we will contribute to world prosperity by establishing bridges between our country and the global world.If you have interested in our wedge wire prodducts,please contact us.