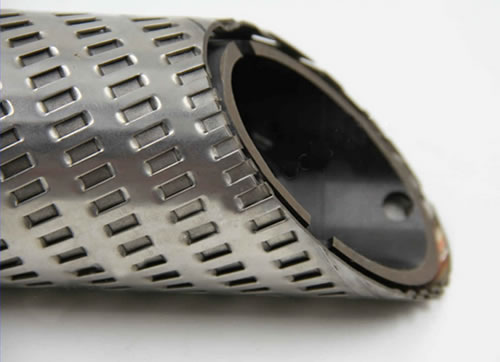 Slotted stainless steel Sheet Filter Screen
March 13, 2018
Wedge Wire Screen Panels
March 14, 2018
Wedge Wire screen product is custom designed to suit the specific requirements of the customer and to enable a relatively low cost and high performance solution for the screening application.
Wedge wire screen sheet is often made info panels with the materials of wrapping profile wire and support rods, then welding together with unique computer controlled machinery. The wedge screen panel size can be changeable as need.
Wedge wire screen with the continuous slot opening can ensure the water flowing uninterrupted and avoid clogging. And the materials with the excellent hardness, wedge wire can bear the heavy products in minging wells and oil wells applications.
Materials: Stainless Steel 316, 304H, 304, 312 (excellent hardness), steel wire.
Thickness of wedge wire – 1.5mm × 1.5mm × 1.0mm × 4 feet long.
Thickness of wedge wire support- 2.5mm and 2.5mm × 2.0mm ×  8 feet long.
Distance / Space between two wires: 24mesh = 0.707mm.
Length × Width: 8 feet × 4feet.
Width(mm): 1.50 1.80 2.30 3.00 3.30 3.70  Height(mm): 2.20 2.50 2.70 3.60 4.30 4.70 5.60 6.30 7.00
Specification (support rod):
Width(mm): 2.30 3.00 3.30 3.70  Height(mm): 2.70 3.60 4.70 5.60 6.30 Round: From 2.50mm to 6.0mm
Note: other specifications available as per request
Slot size
0.10, 0.15, 0.20, 0.25, 0.30…… 6.00mm also achieved upon request.
Material:
galvanized low carton (LCG), stainless steel (304,316 etc.)
Length
up to 6 meters.
Diameter
from 25mm to 1200mm.
End connection
Plain beveled ends, flanged or threaded couplings
Features:
A continuous slot opening which significantly increases the available open area, thus providing a greater access to the water bearing zone.
Wedge wire which avoids clogging and ensures uninterrupted flow.
Ladder-like wire welded screens have the features of easy backwashing, last long, safety and reliability as well as low comprehensive cost.
The Specification of Wedge Wire Cylinder Screen:
Materials: 304, 302, 304L, 316, 316L stainless steel wire, or galvanized steel wire.
O. D: 1 inch, 3inch, 4inch, 6inch, 8inch, 10inch, 12inch.
The slot: 0.1mm-45mm.
The wire: 2.0mm*30. Mm, 3.0mm*4.6mm, 3.0mm*5.0mm.
The rods: 3.8mm/22, 3.8mm/32, 3.8mm/48, 3.8mm/50.
The rod can be round wire, triangular wire or trapezoid wire. The warp is triangular wire (V-shaped wire).
Styles of connection: By welding or by threaded male/female coupling.
Standard length: 1m-5.85m.
Wedge Wire Wrap Water Well Screen
FOB Price: US $30 / Meter
Min. Order: 10 Meters
Video
Perfecet Round Wedge Wire Johnson Well Screen
FOB Price: US $50 / Meter
Min. Order: 100 Meters
Wedge Wire or V Wire Flat Panel Screen
FOB Price: US $120-150 / Square Meter
Min. Order: 1 Square Meter
Reversed Profile Wedge Wire Screen From Xinlu Wire Mesh
FOB Price: US $56 / Piece
Min. Order: 26 Pieces
Ss304/316L Johnson Filter Wedge Wire Well Screens
FOB Price: US $78 / Piece
Min. Order: 26 Pieces
0.02mm/0.05mm/1mm Wedge Wire Screens, Johnson Screen, Vee Wire Filter Screen
FOB Price: US $56 / Piece
Min. Order: 26 Pieces
Video
Johnson Type Wedge Wire Screen
FOB Price: US $100 / Piece
Min. Order: 30 Pieces
High Temperature Resistance Wedge Wire Screen
FOB Price: US $56 / Piece
Min. Order: 26 Pieces
Wedge Wire Screen / V Wire Johnson Screen
FOB Price: US $100 / Piece
Min. Order: 30 Pieces
Large Diameter Stainless Steel Wedge Wire Screens for Sea Water
FOB Price: US $100 / Piece
Min. Order: 30 Pieces
Wedge Wire Screen with Stainless Steel
FOB Price: US $80 / Square Meter
Min. Order: 50 Square …
Wedge Wire Oil Filter Screen
FOB Price: US $21 / Meter
Min. Order: 50 Meters
Woven Wedge Wire Screen Supply
FOB Price: US $120 / Square Meter
Min. Order: 10 Square …
Run Down Screens with Wedge Wire
FOB Price: US $110 / Square Meter
Min. Order: 15 Square …
Type 304 Stainless Steel Wedge Wire Screen
FOB Price: US $95 / Piece
Min. Order: 100 Pieces
Wedge Wire Cylinder Screen Used in Architectural
FOB Price: US $120-150 / Square Meter
Min. Order: 1 Square Meter
Looped Wedge Wire Screen USD in Well Drilling
FOB Price: US $50-300 / Meter
Min. Order: 10 Meters
20 Micron Wedge Wire Screen (ISO)
FOB Price: US $50-100 / Piece
Min. Order: 10 Pieces
Wedge Wire Screen Cylinder / Cylindrical Screen / Well Screen
FOB Price: US $35 / Meter
Min. Order: 10 Meters
Stainless Steel Flat Wedge Wire Screen
FOB Price: US $56 / Piece
Min. Order: 26 Pieces
Wedge Wire Screens for Liquid / Solid Separation
FOB Price: US $45 / Piece
Min. Order: 50 Pieces
Profile Wire Screen / Wedge Wire Screen
FOB Price: US $30 / Meter
Min. Order: 50 Meters
Wedge Wire Screen for Water
FOB Price: US $100 / Square Meter
Min. Order: 50 Square …
Perfect Round Wedge Wire Screen Tube (ISO)
FOB Price: US $30 / Meter
Min. Order: 10 Meters