Slotted Wedge Wire Screen
March 13, 2018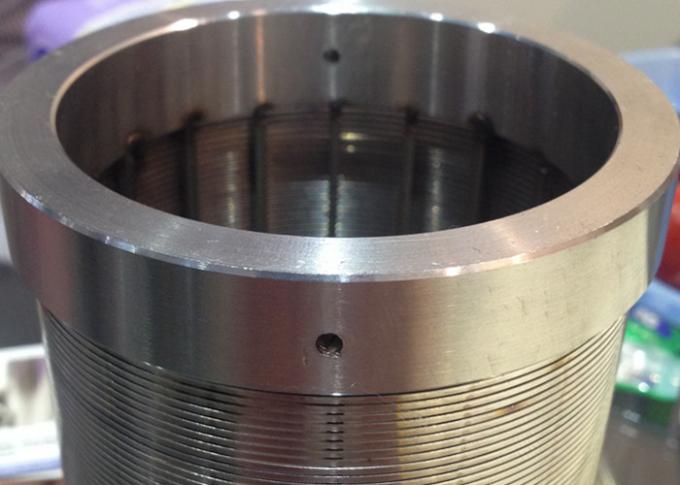 wedge wire screens for solids separation
March 14, 2018
Slotted stainless steel Sheet Filter Screen is made up of rods and profile wire. The rod can be round wire, triangular wire or trapezoid wire. The profile wire is triangular wire (V-shaped wire). This type of pipe screen has a structure and high open area, as well as accurate slot dimension. At the same time, stainless steel pipe screen has heat-resisting, anti-corrosive, good machine capability, last long, safety and reliability and so on characteristics. It can be used in many kinds of medium filtering.
Round Round Hole Perforated Metal is the most popular style of perforated metal. Perforated sheet offers the widest selection of diameters, gauges, materials and sheet size options. We carry the staggered row and straight row patterns in flat metal sheets and coils.
Square Square Hole Perforated Metal is a good option when a greater open area is required in a project. Our square hole perforated metal is extremely versatile and lightweight. We carry a diverse selection of staggered or straight row patterns in a wide variety of hole sizes, gauges and materials.
Slotted Slotted Hole Perforated Metal can provide greater ventilation and passage of material than round hole perforation. Many slot sizes and pattern layouts are available.
Decorative Decorative Perforated Metal is ideal for many architectural metal applications that require an aesthetic appeal. Perforated sheet's decorative holes offer design options with a wide array of hole shapes, gauges and materials in straight and staggered patterns.
Architectural Perforated Metal
Architectural Perforated Metal is extremely versatile and lightweight and comes in round, square, slotted and decorative perforations. Some architectural metal applications include sunscreens, ceiling panels, exterior cladding or any application requiring an aesthetically appealing look.
Hexagonal Hexagonal Perforated Metal features a substantial open area from 79%-80% and is primarily used for high airflow and architectural metal applications. We carry hexagonal perforated sheet metal in a variety of gauges, hole sizes, patterns and materials.
U-Edging U-Edging is a perforated metal accessory that is a u-shaped strip attached to the edge of a perforated metal sheet to make the edges more attractive and safer.
Features of Slotted stainless steel Sheet Filter Screen
V-Shaped Slots: Openings shaped like a "v" that open toward the inside of the well tend to allow the particles that are just barely smaller than the width of the slot pass. In other shapes of openings, these particles would get caught in the screen and clog it.
Continuous Slots: The special design gives continuous slot opening across the periphery and length of screen.
Very Large Open Area: This design gives continuous slot and hence the% open area for water to enter is more than 2 times that of conventional slotted pipes of any size and slot opening. This allows more water to enter at much lesser frictional head loss and the efficiency of tube well is improved appreciably.
Better Sand Filtration: Due to specialize manufacturing process, wide range of slot opening is available down to 0.15mm to allow proper slot selection depending upon the size of sand in particular area. This gives better sand control and reduced pump maintenance and longer tube well life.
Energy Saving: Due to reduce frictional head losses and increased discharge, the pump load reduces the power required to pump same quantity of water. Power saving of around 20-25% is observed.
Ss 304 Johnson Screen Panels/ Flat Wedge Wire Slotted Screen Panels Prices
FOB Price: US $10-80 / PieceMin. Order: 1 Piece
ASTM A53 6′′ 5/8 4.5mm Thickness Bridge Slotted Filter Pipe
FOB Price: US $250 / PieceMin. Order: 1 Piece
Galvanized Bridge Slotted Screen/Deep Well Water Well Screen with High Strength
FOB Price: US $10-50 / MeterMin. Order: 10 Meters
9′′5/8 Stainless Steel 304 1.0mm Slot Bridge Slotted Screen Used for Water Irrigation Well
FOB Price: US $250 / PieceMin. Order: 1 Piece
Pass SGS BV Testing 10′′3/4 Bridge Slotted Pipe for Oil Gas Completion Well
FOB Price: US $250 / PieceMin. Order: 1 Piece
Stainless Steel 304 Water Well Bridge Slotted Screens for Irrigation Well
FOB Price: US $250 / PieceMin. Order: 1 Piece
6′′5/8 AISI 304 Bridge Slotted Screen for Drill Borehole Completion Well
FOB Price: US $250 / PieceMin. Order: 1 Piece
High-Quality Oil&Gas Well Laser Slotted Screen Pipe/Drill Pipe Screen/ Drill Pipe Screens
FOB Price: US $10-30 / PieceMin. Order: 10 Pieces
Ss High-Quality Oil&Gas Well Laser Slotted Screen Pipe/Drill Pipe Screen
FOB Price: US $10-30 / PieceMin. Order: 10 Pieces
Od273mm High Strength Bridge Type Water Well Screen/ Stainless Steel Water Well Drilling Screen
FOB Price: US $10-50 / MeterMin. Order: 50 Meters
LSAW Stainless Steel Bridge Slot Well Screen Pipe/Bridge Type Drilling Screen
FOB Price: US $20-100 / MeterMin. Order: 50 Meters
6 Inch Stainless Steel Water Well Screens
FOB Price: US $10-50 / PieceMin. Order: 100 Pieces
Stainless Steel 316L Rod Based Slot Water Well Screens
FOB Price: US $10-50 / PieceMin. Order: 100 Pieces
Stainless Steel 304 Cylinder Filter Wedge Wire Sieve Screens
FOB Price: US $10-50 / PieceMin. Order: 100 Pieces
Stainless Steel 304 Wedge Wire Filters
FOB Price: US $10-50 / PieceMin. Order: 100 Pieces
Stainless Steel Continuous Slot Johnson Deep Well Screens
FOB Price: US $10-50 / PieceMin. Order: 100 Pieces
Large Diameter Stainless Steel Wedge Wire Screens for Sea Water Desalination-Supply for Shell Company
FOB Price: US $10-50 / PieceMin. Order: 100 Pieces
AISI Stainless Steel 316L V Wire Wedge Wire Screens/Water Well Screes/Water Filter
FOB Price: US $10-50 / PieceMin. Order: 100 Pieces
Od273mm SSAW Spiral Bridge Slot Screen Pipe
FOB Price: US $20-50 / MeterMin. Order: 50 Meters
AISI 304 6′′5/8 1.0mm Slot Bridge Slot Screen for Geothermal Well
FOB Price: US $250 / PieceMin. Order: 1 Piece
Internal Circumferential Wedge/Vee Wire Welded Screen for Water Treatment and Water Well
FOB Price: US $10-50 / PieceMin. Order: 100 Pieces
Passive Intake Well Screens for Sea Water Desalination
FOB Price: US $10-50 / PieceMin. Order: 100 Pieces
Johnson Continuous Slot Wire Well Screens Pump Filter Pipes
FOB Price: US $10-50 / PieceMin. Order: 100 Pieces
Wire Wrapped Well Screens for Water Well Drilling
FOB Price: US $10-50 / PieceMin. Order: 100 Pieces
Continuous Slot Wedge Wire Water Well Screens for Well Drilling
FOB Price: US $10-50 / PieceMin. Order: 100 Pieces
6 Inch V-Wire Water Well Screens with Open Area 25%
FOB Price: US $10-50 / PieceMin. Order: 100 Pieces
6 Inch Cheap Water Well Screens for Well Drilling
FOB Price: US $10-50 / PieceMin. Order: 100 Pieces
Continuous Slot Vee Shaped Wire Water Well Screens
FOB Price: US $10-50 / PieceMin. Order: 100 Pieces