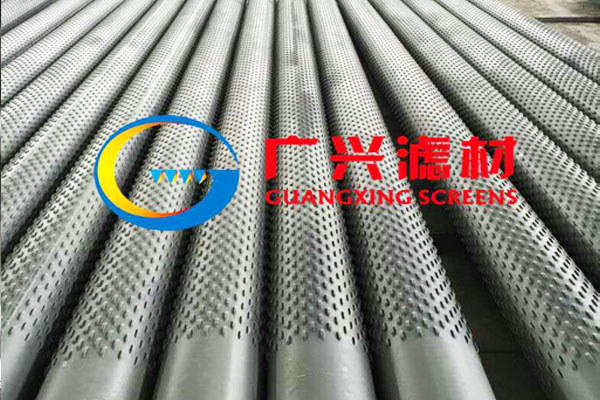 Bridge slotted water well screens
June 26, 2017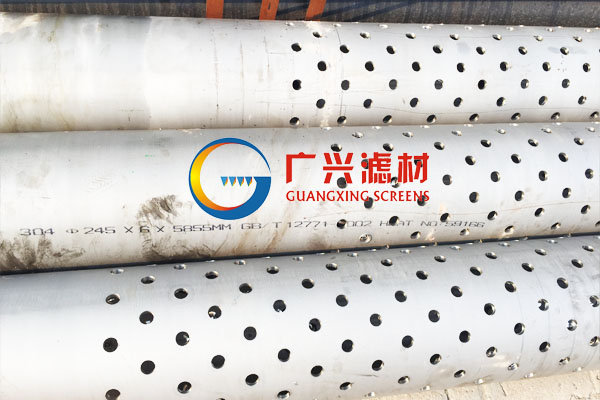 Round Hole Perforated Drilling Pipe
June 26, 2017
Johnson screen,water well screen are manufactured by wrapping a shaped wire around an internal array of longitudinal rods.
The wire and rod, generally made from carbon or stainless steel are joined by resistance welding.
Screen sections are usually twenty feet long. The 'V' or wedge shaped profile wire wraps around the support rods
over the full length of the screen creating a continuous and consistent slot opening.
Most continuous wire wrap screens are manufactured from stainless steel in order to avoid problems associated with sand pumping
that may result from accelerated corrosion of carbon steel screens.
steel well screen Manufacturing Process:.
specifications of Johnson screen,water well screen
                                        water Well   Screen
Specification (Profile wire):
Width(mm): 1.50 1.80 2.30 3.00 3.30 3.70
Height(mm): 2.20 2.50 2.70 3.60 4.30 4.70 5.60 6.30 7.00
Specification (support rods):
Width(mm): 2.30 3.00 3.30 3.70
Height(mm): 2.70 3.60 4.70 5.60 6.30
Round: From 2.50mm to 6.5mm
Note: other wires and rods available upon request
Slot size
0.10, 0.15, 0.20, 0.25, 0.30…… 6.00mm also achieved upon request.
Material:
Low carton, low carton galvanized steel (LCG), stainless steel (304,316 etc.)
Length
2.9 meters,3 meters,5.8 meters,6 meters.
Diameter
1 1/2″,2″,2 1/2″,3″,3 1/2″,4″,6″,7″,8″,9 5/8″,10″,12″,133/8″,14″,16″
Screen end
Plain beveled ends for butt welding or threaded
Other sizes available on request .Deep well construction specifications available on question.

Well depths :100 m, 200 m, 350 m & 600 m.

Advantage

Reduce energy consumption and increase water flow.

Reduce erosion of entry surfaces and increase well life.

Allow a uniform and efficient well development.

Reduce significantly potential pump damage and subsequent maintenance costs.
Johnson Screens – Aqseptence Group
Johnson Screens with its trade mark Vee-Wire® is the leading brand for screens in industrial filters, water well and architecture. In 1904, Edward E. Johnson …
Aqseptence Group: Filtration, separation and water technology
Johnson Screens Half Passive Intake Screen. As water demands expand for cities, towns and industry, shallow water resources previously hard to withdraw from …
‎Airvac · ‎Key Brands · ‎Markets · ‎About us
Johnson Screens Industrial Filters, Reactor Internals, and Water Well …
Industrial Filters, Reactor Internals, and Water Well Screens Since 1904 Johnson Screens® has been the world's leading manufacturer of industrial filters and …
Images for Johnson screen
Report images
Johnson Screens – Well Screens and Flat Panels — Deeco Services …
www.deeco.co.nz/johnson-screens-waterwell-water-process-industrial/
Johnson Screens. Throughout our 78 year history, Deeco has built a close working relationship with the water supply industry in New Zealand. With an in-depth …
Johnson Screens | Segment on "World's Greatest!…" – YouTube
Video for Johnson screen▶ 3:07
https://www.youtube.com/watch?v=CY69MFDvqzw&feature=youtu.be
Jan 24, 2011 – Uploaded by "World's Greatest!…" TV Show
Johnson Screens was founded in 1904 by Edward E. Johnson after he invented the world's first continuous …
Johnson Screen, Johnson Screen Suppliers and Manufacturers at …
Johnson Screen, Wholesale Various High Quality Johnson Screen Products from Global Johnson Screen Suppliers and Johnson Screen Factory,Importer …
[PDF]StainleSS Steel Well ScreenS & acceSSorieS – Groundwater Supply …
21,400. JohnSon ScreenS 60 WIRe moDeLS – 304 AND 316 STAINLeSS STeeL. Size. In. open Area – In.²/ft of Screen collapse Strength – pSi4. Screen Slot Size …
Johnson Screens – S&S Resource
Johnson Screens. Metal grills for interior and exterior architectural and design uses. Stainless steel wire, robitically welded & cable panels for screening, security …
Johnson Screens | Johnson Architectural Products – Arcat
Architectural Johnson Architectural Products building product information for Johnson Screens.
Ad
johnson screen china‎
specialized production base of Johnson screen in china
Products: Heat Exchanger, UPVC Pipe, Downhole Logger, Water Well Drilling Machine…
Searches related to Johnson screen
johnson well screens
johnson screens products
johnson screens distributors
johnson wire screen
johnson intake screens
johnson well screen slot size
johnson architectural screens
johnson screens australia[/showhide]