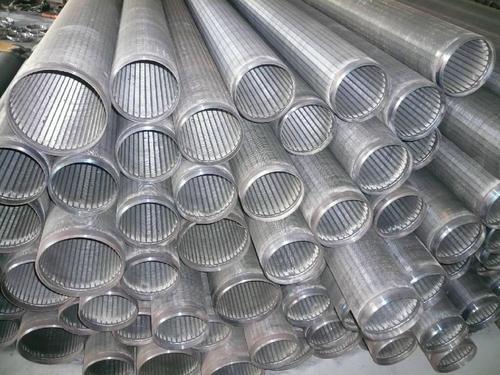 galvanized water well casing pipes and filters
March 22, 2018
bridge type water filter pipe,Spiral bridge water filter
April 11, 2018
Standards:API 5CT
Base pipe:API casing or tubing
Slot style:Straight slot, keystone slot
Slot shape:Slotted or custom
Slot pattern:Staggered, straight in line, gang, or custom
Slotted liner patterns
Three slot patterns are designed for different characteristics. Compared to staggered and straight slot patterns, gang slot pattern has superiorities over installation torque-loading capacity and substantially improves the liner's resistance to lateral bucking and collapse pressures.
Whether you want your slotted liner with a line, staggered, gang, overlapping, horizontal, or any other pattern, we can cut them all.
Among all slot patterns, the following three are the most common.
Line (Straight) Pattern
In the line pattern, slots are placed evenly in identical bands around the pipe, forming straight lines of slots across the length of the slotted liner.
Single-Slot Staggered Pattern
In the single-slot staggered pattern, bands of evenly spaced slots are placed around the pipe. Slots in different bands are offset (staggered) to each other.
The single-slot staggered pattern preserves the strength of the pipe and provides an even distribution of the slots over the area of the pipe.
Gang Pattern (Multiple Staggered Pattern)
While having the same overall layout as the single-slot staggered pattern, the gang pattern places two slots, cut at close proximity, instead of just one slot at each position.
Slotted liner with a multiple staggered pattern has been shown to withstand higher torque during installation and provide better resistance to deformation under thermal load compared to the single-slot staggered pattern, making it well suited for application in steam assisted gravity drainage (SAGD) applications.
Slotted Liner Applications
Due to their ease of installation and lower costs when compared to well screens, slotted liners are a popular choice in many different production environments.
In consolidated formations, perforated and slotted liners with larger slots are run to stabilize the wellbore and provide a large flow area. These downhole characteristics are often present in geothermal wells.
In unconsolidated sand formations with gravel pack or large enough grain sizes, liners with slots of minimum width provide effective sand control and continuous flow of production fluids.
suggestions on plugging of slotted liner.
Anti-plugging is a vital element for the evaluation of slotted liners. Four factors which are probably cause plugging are found.
Slot Profile
It is proven by more and more living examples that seamed keystone slot is superior to straight slot.
Formation wettability influence on slot plugging and sand production is especially apparent when the wetting phase is in motion.
Clay concentration
Usually, clay is the main factor of slot plugging. When both granular sand and clay are present, the possibility of severe plugging is extraordinarily high.
How many holes needed to achieve a certain open area?
N = 


N = the number of slots per foot.
D = Outside diameter of the liner (in inches).
C = Open area percentage.
W = selected slot width (in inches).
L = Length of slot (inches).