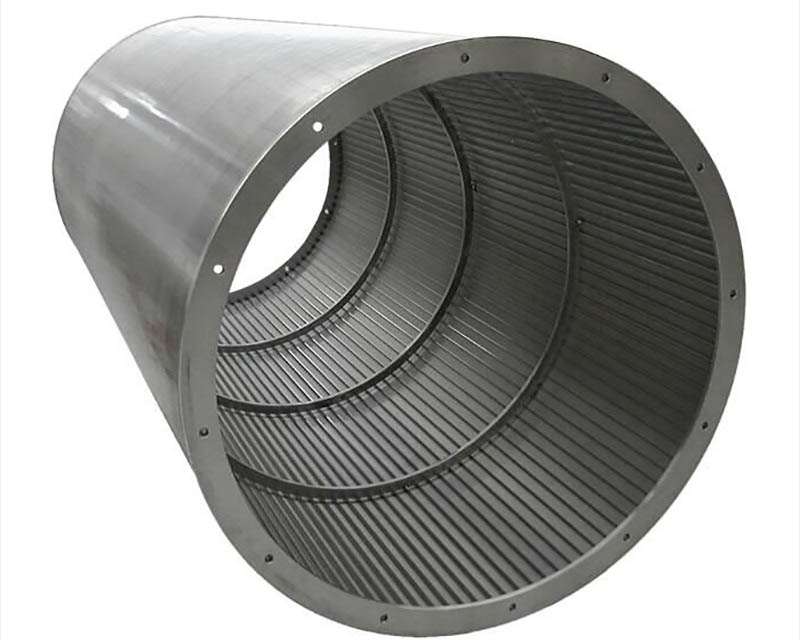 wedge wire drum screen filter for screw press separator
March 10, 2018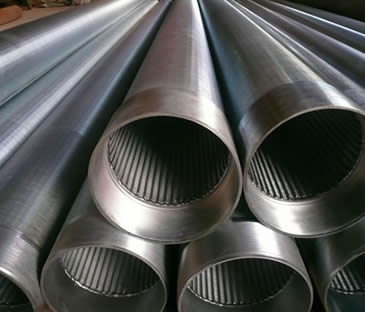 Steel wedge Wire Filter Element
March 10, 2018
Material: SS302, SS304, SS404L, SS316, SS316L, Monel 400, Hastelloy. Mainly made of stainless steel wire mesh, sintered wire mesh, iron mesh, stainless steel, iron sheets etc.
Type: single-layer welding, multi-layer welding, single-layer welding followed with multi-layer welding by intersecting metal filter tube, network tube, wire mesh bucket etc.
Shape: tubular cartridge, basket-style cartridge, cup-type cartridge, folding cartridge
Application:
Wedge wire screen sheets are most used for solid/liquid and solid/gas separation, sand and water filtration, oil or gas well, water well, mining well, sugar processing and chemical industry.
Wedge Wire Screen Panels, Sieve Bends and Tubes are widely used for wine-making, malting, paper-making, mining, crement-producing, food-processing, oil-refining, sugar processing, foodstuff, noise-silencer, environmental protection, agricultural machine, chemical industry and pharmacy industry,
Filtration:
From outside to inside filtration.
From inside to outside filtration.
SS304L Wedge Wire Continuous Slot Water Well Screens for Water Well Drilling
FOB Price: US $20-500 / Piece
Min. Order: 10 Pieces
Material: Metal
Layers: Single
Usage: Liquid Filter
Product Name: SS304L Wedge Wire Continuous Slot Well Screen
Connection: Welding, Thread(Stc, Ltc, Btc), Flange
Collapse Strength: Depends on The Requirement
Contact Now Request Sample Inquiry Basket
All-Welded Stainless Steel Wedge Wire Screens with Beveled Welding Ring
FOB Price: US $46-99 / Piece
Min. Order: 10 Pieces
Material: Metal
Layers: Single
Usage: Liquid Filter
Type: Filter Cylinder
Hole Shape: Round
Structure: Single Network
Contact Now Request Sample Inquiry Basket
Continuous Slot Vee Shaped Wire Wedge Wire Screens
FOB Price: US $46-99 / Piece
Min. Order: 10 Pieces
Material: Metal
Layers: Single
Usage: Liquid Filter
Type: Filter Cylinder
Hole Shape: Round
Structure: Single Network
Contact Now Request Sample Inquiry Basket
Stainless Steel Wire Mesh Screen Tube Johnson Wedge Wire Screen
FOB Price: US $30-60 / Meter
Min. Order: 10 Meters
Material: Metal
Layers: Single
Usage: Liquid Filter
Type: Perforated Metal Mesh
Hole Shape: Round
Structure: Single Network
Contact Now Inquiry Basket
Video
Oasis Supply High Quality Wedge Wire Screen Wedge Wire Tube
FOB Price: US $30-60 / Meter
Min. Order: 10 Meters
Type: Wedge Wire Tube
Usage: Environmental Protection
Motive Force: Pressure
Style: Plate and Frame
Performance: Efficient Filtration
Certification: CE, GS, UR, UL
Contact Now Inquiry Basket
Slotted Wedge Wire Screen Oasis V Wire Screen Tube
FOB Price: US $30-60 / Meter
Min. Order: 10 Meters
Type: Wedge Wire Tube
Usage: Environmental Protection
Motive Force: Pressure
Style: Plate and Frame
Performance: Efficient Filtration
Certification: CE, GS, UR, UL
Contact Now Inquiry Basket
Slotted Johnson Water Well Screen Tube Wedge Wire Screen
FOB Price: US $12.6-65.8 / Meter
Min. Order: 10 Meters
Type: Wedge Wire Tube
Usage: Environmental Protection
Motive Force: Pressure
Style: Plate and Frame
Performance: Efficient Filtration
Certification: CE, GS, UR, UL
Contact Now Inquiry Basket
Video
Stainless Steel V Shaped Profile Wedge Wire Screens
FOB Price: US $62-65 / Meter
Min. Order: 100 Meters
Material: Stainless Steel Wire
Hole Shape: Square
Application: Solid-Liquid Separation
Type: Primary Filter
Style: Filter
Other Name: Stainless Steel V Shaped Profile Wedge Wire Screen
Contact Now Request Sample Inquiry Basket
Water Well Drilling Rod Based Wedge Wire Screens Pipe
FOB Price: US $46-99 / Piece
Min. Order: 10 Pieces
Material: Metal
Layers: Single
Usage: Liquid Filter
Type: Filter Cylinder
Hole Shape: Round
Structure: Single Network
Contact Now Request Sample Inquiry Basket
5mm Slot Stainless Steel 316L V Wire Wedge Wire Screens
FOB Price: US $36-99 / Piece
Min. Order: 10 Pieces
Material: Metal
Layers: Single
Usage: Liquid Filter
Type: Filter Cylinder
Hole Shape: Round
Structure: Single Network
Contact Now Request Sample Inquiry Basket
Gravel Pre-Pacl Wedge Wire Screen for Sand Control
FOB Price: US $70 / Meter
Min. Order: 10 Meters
Type: Industrial Water Filter
Motive Force: Pressure
Style: Tube
Performance: Sophisticated Filters
Certification: CE, GS, RoHS, CB, LFGB, UR, UL, EMF, EMC, SASO, CSA
Od: 340mm
Contact Now Request Sample Inquiry Basket
Well Drilling 316L Stainless Steel Wedge Wire Screens with Thread
FOB Price: US $46-99 / Piece
Min. Order: 10 Pieces
Material: Metal
Layers: Single
Usage: Liquid Filter
Type: Filter Cylinder
Hole Shape: Round
Structure: Single Network
Contact Now Request Sample Inquiry Basket
All-Welded Stainless Steel 304 Wire Wrapped Wedge Wire Screens
FOB Price: US $30-219 / Meter
Min. Order: 100 Meters
Type: Ozone Water Purifier
Usage: Water Filter
Motive Force: Vacuum
Style: Tube
Performance: Sophisticated Filters
Certification: CE, GS
Contact Now Request Sample Inquiry Basket
Stainless Steel 304 Wedge Wire Mesh Screens
FOB Price: US $38-219 / Meter
Min. Order: 100 Meters
Type: Ozone Water Purifier
Usage: Water Well Drilling
Motive Force: Vacuum
Style: Tube
Performance: Sophisticated Filters
Certification: CE, GS, SASO
Contact Now Request Sample Inquiry Basket
Stainless Steel 304 Wedge Wire Water Well Screens
FOB Price: US $170 / Meter
Min. Order: 5 Meters
Certification: ISO 9001:2008
Applicable Medium: Water, Natural Gas, Crude Oil
Material: Stainless Steel
Od: 325mm
Wire: 3.5*6mm
Rods: 5mm*80PCS
Contact Now Inquiry Basket
6 5/8 Inch Looped Wedge Wire Screen (Johnson Type)
FOB Price: US $36-219 / Meter
Min. Order: 10 Meters
Type: Ozone Water Purifier
Usage: Water Well Drilling
Motive Force: Vacuum
Style: Tube
Performance: Efficient Filtration
Certification: CE, GS, RoHS, SASO
Contact Now Request Sample Inquiry Basket
Stainless Steel 316 Johnson Type Wedge Wire Screens
FOB Price: US $120 / Piece
Min. Order: 1 Piece
Type: Welded
Material: Stainless Steel
Surface Treatment: Polished
Usage: Pipeline Transport, Oil/Gas Drilling, Food/Beverage/Dairy Products, Mining, Construction & Decoration, Filter
Section Shape: Round
Od: 508
Contact Now Inquiry Basket
6inch Stainless Steel Water Well Screen/Wedge Wire Screens
FOB Price: US $46-99 / Piece
Min. Order: 10 Pieces
Material: Metal
Layers: Single
Usage: Liquid Filter
Type: Filter Cylinder
Hole Shape: Round
Structure: Single Network
Contact Now Request Sample Inquiry Basket
Hot Product for Drilling API Standard Wedge Wire Screens
FOB Price: US $50-200 / Meter
Min. Order: 1 Meter
Material: Metal
Layers: Single
Usage: Liquid Filter
Structure: Multilayered
Od: 114.30mm
Wire: 2.2*3.2mm
Contact Now Inquiry Basket
Pipe Based Water Well Screens with Wedge Wire Screens Jacket
FOB Price: US $89-519 / Meter
Min. Order: 20 Meters
Type: Water Filter
Usage: Well Drilling
Motive Force: Vacuum
Style: Tube
Performance: Efficient Filtration
Certification: CE, RoHS, UR, SASO
Contact Now Request Sample Inquiry Basket
Stainless Steel 316 Johnson Type Wedge Wire Screens
FOB Price: US $120 / Piece
Min. Order: 1 Piece
Type: Welded
Material: Stainless Steel
Surface Treatment: Polished
Usage: Pipeline Transport, Oil/Gas Drilling, Machinery Industry, Construction & Decoration, Special Purpose
Section Shape: Round
Od: 508
Contact Now Inquiry Basket
Johnson Continuous Slot Pipe Base Wedge Wire Wrap Well Screens Pipe
FOB Price: US $46-99 / Piece
Min. Order: 10 Pieces
Material: Metal
Layers: Single
Usage: Liquid Filter
Type: Filter Cylinder
Hole Shape: Round
Structure: Single Network
Contact Now Request Sample Inquiry Basket
Perforated Stainless Steel Drum Wedge Wire Screen for Waste Water Screening
FOB Price: US $15-68 / Meter
Min. Order: 10 Meters
Material: Metal
Layers: Single
Usage: Johnson Wire Screen
Type: Welded Mesh
Hole Shape: Round
Structure: Single Network
Contact Now Inquiry Basket
304 316L 6 Inch Water Well Screen Pipe Vee Type Johnson Wedge Wire Screen
FOB Price: US $12.6-65.8 / Meter
Min. Order: 10 Meters
Material: Metal
Layers: Single
Usage: Liquid Filter
Type: Johnson Wire Screen Pipe
Hole Shape: Square
Structure: Single Network
Contact Now Inquiry Basket
Oasis Stainless Steel 304 V Wire Wedge Water Well Sand Johnson Screen
FOB Price: US $12.6-65.8 / Meter
Min. Order: 10 Meters
Temperature Classification: Room Temperature Piping
MPa Classfication: Low Pressure Piping
Material: Stainless Steel
Standard: ASTM, GB, API
Diameter: 25mm to 1500mm
Medium: Liquid
Contact Now Inquiry Basket
Ss Johnson Wedge Wire Screens Cylinder with Male-Female Thread
FOB Price: US $46-99 / Piece
Min. Order: 10 Pieces
Material: Metal
Layers: Single
Usage: Liquid Filter
Type: Filter Cylinder
Hole Shape: Round
Structure: Single Network
Contact Now Request Sample Inquiry Basket
Wire Wrapped All-Welded Water Well Screens Pipe/Johnson Screens/Wedge Wire Screens
FOB Price: US $46-99 / Piece
Min. Order: 10 Pieces
Material: Metal
Layers: Single
Usage: Liquid Filter
Type: Filter Cylinder
Hole Shape: Round
Structure: Single Network
Contact Now Request Sample Inquiry Basket
Johnson Type Screens Wedge Vee Wire Wrapped Screen for Sale
FOB Price: US $525-950 / Piece
Min. Order: 5 Pieces
Type: Welded
Technique: Hot Rolled
Material: Stainless Steel
Surface Treatment: Polished
Usage: Pipeline Transport, Boiler Pipe, Hydraulic/Automobile Pipe, Oil/Gas Drilling, Machinery Industry, Chemical Industry, Mining
Section Shape: Round
Contact Now Inquiry Basket
China Stainless Steel Wedge Wire Screens Pipe Manufacture
FOB Price: US $36-99 / Piece
Min. Order: 10 Pieces
Material: Metal
Layers: Single
Usage: Liquid Filter
Type: Filter Cylinder
Hole Shape: Round
Structure: Single Network
Contact Now Request Sample Inquiry Basket
Diameter 219 Johnson Type Wedge Wire Screen for Water Liquid
FOB Price: US $500 / Meter
Min. Order: 20 Meters
Usage: Industrial Water Filter
Style: Tube
Od: 177.8mm
Wire: 3*5mm
Rods: 5mm*42nos
Length: 5.8meters
Contact Now Inquiry Basket
SUS304 316 Diameter 168 Wedge Wire Screen
FOB Price: US $200 / Meter
Min. Order: 10 Meters
Certification: CE, UR, EMC, SASO, CSA, Coc
Od: 245mm
Wire Size: 3.5*5.0mm
Rods: 5.0mm*48PCS
Steel Grade: 316L
Length: 0.1 Meter-5.8meter/Custom Made
Contact Now Request Sample Inquiry Basket
Beveled Wedge Wire Water Well Screen Pipe Continuous Slot Wire Wrapped Screen
FOB Price: US $46-99 / Piece
Min. Order: 10 Pieces
Material: Metal
Layers: Single
Usage: Liquid Filter
Type: Filter Cylinder
Hole Shape: Round
Structure: Single Network
Contact Now Request Sample Inquiry Basket
Manufacture Stainless Steel 316 Johnson Type Wedge Wire Screens
FOB Price: US $120 / Piece
Min. Order: 1 Piece
Type: Welded
Material: Stainless Steel
Surface Treatment: Polished
Usage: Pipeline Transport, Oil/Gas Drilling, Food/Beverage/Dairy Products, Mining, Construction & Decoration, Filter
Section Shape: Round
Od: 508
Contact Now Inquiry Basket
Riverwater Passive Intake Screens Wedge Wire Screens
FOB Price: US $389 / Meter
Min. Order: 200 Meters
Material: Metal
Layers: Single
Usage: Liquid Filter
Type: Filter Cylinder
Hole Shape: Square
Structure: Single Network
Contact Now Request Sample Inquiry Basket
Stainless Steel 304 Water Filter Mesh Screens/V Wedge Wire Screens
FOB Price: US $40-45 / Meter
Min. Order: 100 Meters
Material: Stainless Steel Wire
Hole Shape: Square
Application: Solid-Liquid Separation
Type: Medium Efficiency
Style: Filter
Transport Package: Packaged with Bubble and Woven Bags
Contact Now Request Sample Inquiry Basket
Continuous Slot Water Well Screens/V Wire Wedge Wire Filter Screens
FOB Price: US $60-65 / Meter
Min. Order: 100 Meters
Material: Stainless Steel Wire
Hole Shape: Square
Application: Solid-Liquid Separation
Type: Medium Efficiency
Style: Filter
Transport Package: Packaged with Bubble and Woven Bags