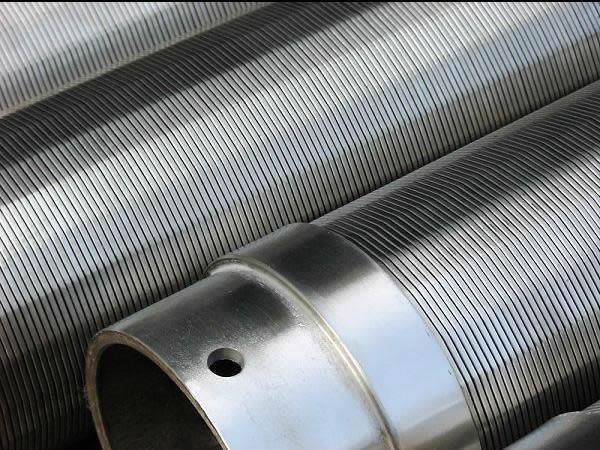 pipe based vee wire screen,Wire wrapped screen
April 30, 2018
Stainless Steel wedge wire filter elements
May 17, 2018
Round hole opening has two patterns of staggered centers. 60°Degree Staggered Centers round hole are the most popular of all pattern types because of their inherent strength, their multitude of varied open areas ,and their attractive appearance, An alternate to the standard patterns is 45°degree staggered centers .Straight center round hole patterns are available in various sizes and open areas, but they are the weakest of the round hole pattern.
The die's diameter can vary from approximately twice the thickness of the material being punched to over two inches.
A perforated pipe is designed to allow water to enter or exit through small holes or slots along the pipe. This pipe can make a great underground drainage system particularly for outdoor uses since it absorbs the water and drains it out of the way. Here are some common uses of a perforated pipe and some basic information on how to install it correctly.Perforated pipes are commonly used for the draining system of a pool. Water that is left on the pool deck is passed through such pipes and drain back to the pool through the small slots present in the pipe. Moreover, since the slots are very small, there is no risk of any unwanted debris to drain down into the pool with the water, and so, indirectly, these pipelines act as filters as well.
Comodity: perforated pipe
Base pipe: API 5CT casing pipe  tubing    seamless pipe   ERW pipe
Hole diameter: 10mm-50mm
Distance: according to your requirement
Advantages of Round Hole water well Perforated Screen Pipe,Perforated Pipe
. Strength:with high mechanical strength and compressive strength.
. Easy to clean: As a result of surface of the filter material, having means for cleaning characteristics, especially suitable for backwashing.
. Easy processing: suitable for cutting, bending, stamping, drawing, welding and other processes.
. High temperature: 480 °Ccan withstand high temperatures.
. Corrosion resistance: As a result of SUS316L, 304 materials, the corrosion resistance.
. Filtration: Filtration range of 1μm-200μm, has a reliable filter performance.
. Stability: Because there is one layer to do to protect the screen, plus solid melting diffusion sintering process which make filters is not easily to deform.
.Sand Control Perforated Tube Screen
Water Well Perforated API Pipe for Water Intake/Ground Water Treatment Filtration
FOB Price: US $30-50 / PieceMin. Order: 100 Pieces
Deep Water Well Drill Pipe/Perforated Pipe
FOB Price: US $30-50 / PieceMin. Order: 100 Pieces
Perforated Steel Pipe for Water Well
FOB Price: US $30-50 / PieceMin. Order: 100 Pieces
Perforated Pipes/Water Well Screens/Filter Pipes
FOB Price: US $60-77 / MeterMin. Order: 60 Meters
Perforated 6in Water Well Stc Connection Filter Pipe
FOB Price: US $30-50 / PieceMin. Order: 100 Pieces
API Perforated Steel Pipe for Water Well Drilling Equipment
FOB Price: US $30-50 / PieceMin. Order: 100 Pieces
1-1/4″ API Stainless Steel Pipes Perforated Pipe for Drainage Price List
FOB Price: US $30-50 / PieceMin. Order: 100 Pieces
Double Layer Perforated API Based Pipe Stainless Steel Wedge Wire Wrapped Oil Well Well Screen
FOB Price: US $10-50 / PieceMin. Order: 100 Pieces
API Perforated Casing Pipe/Stainless Steel Perforated Pipe/Low Carbon Steel Spiral Perforated Pipe
FOB Price: US $30-50 / PieceMin. Order: 100 Pieces
High Quality Carbon Steel Slotted Round Hole Perforated Pipe
Min. Order: 6 Meters
API Perforated Pipe Round Hole
FOB Price: US $30-50 / PieceMin. Order: 100 Pieces
Metal Mesh Cylinderapi Perforated Steel Pipe Manufacture
FOB Price: US $30-50 / PieceMin. Order: 100 Pieces
8mm Hole Size Perforated Steel Casing Tube/Pipe for Well Drilling
FOB Price: US $30-50 / PieceMin. Order: 100 Pieces
Oil Drill Stainless Steel Price Carbon Steel Perforated Filter Pipe
FOB Price: US $30-50 / PieceMin. Order: 100 Pieces
Stainless Steel Perforated Drilling Pipe Screen/Drill Pipe Spill
FOB Price: US $10-50 / PieceMin. Order: 100 Pieces
Water Well stainless Steel Casing Pipe, Casing Screen for Water Well Driling
Min. Order: 1 Meter
Perforated Metal Stainless Steel Tubing Pipe
FOB Price: US $30-50 / PieceMin. Order: 100 Pieces
Stainless Steel 304 Perforated Casing Pipe for Foundation Pit Dewatering
FOB Price: US $100 / PieceMin. Order: 1 Piece
AISI 304 Perforated Hole 10mm Slot Casing Pipe Used in Foundation Pit Dewatering
FOB Price: US $100 / PieceMin. Order: 1 Piece
Stainless Steel Perforated Casing Pipe for Well Drilling
FOB Price: US $10-80 / PieceMin. Order: 1 Piece
CNC Laser Cutting Slotted Pipe API Casing Pipe Round Hole Drilled Pipe
FOB Price: US $10-80 / PieceMin. Order: 1 Piece
Pipe Base API Stainelss Steel Well Double Layer Screen Pipe
FOB Price: US $10-50 / PieceMin. Order: 100 Pieces
Perforated Pipes/Water Filter Pipes
FOB Price: US $60-77 / MeterMin. Order: 60 Meters
Perforated Pipes Used for Wells Drilling with Stc Threads
FOB Price: US $98 / MeterMin. Order: 10 Meters
5mm Rould Holes Water Well Screen/Preforated Pipes
FOB Price: US $60-77 / MeterMin. Order: 60 Meters
Ss304 316 Double Layer Filter Pipe Base Wedge Wire Oil Water Screen Pipe
FOB Price: US $10-50 / PieceMin. Order: 100 Pieces
Multilayer Pipe Base V Wire Screen Filter Pipe
FOB Price: US $10-50 / PieceMin. Order: 100 Pieces
Double Layer Pre-Packed Screen/Filter Pipe
FOB Price: US $10-50 / PieceMin. Order: 100 Pieces