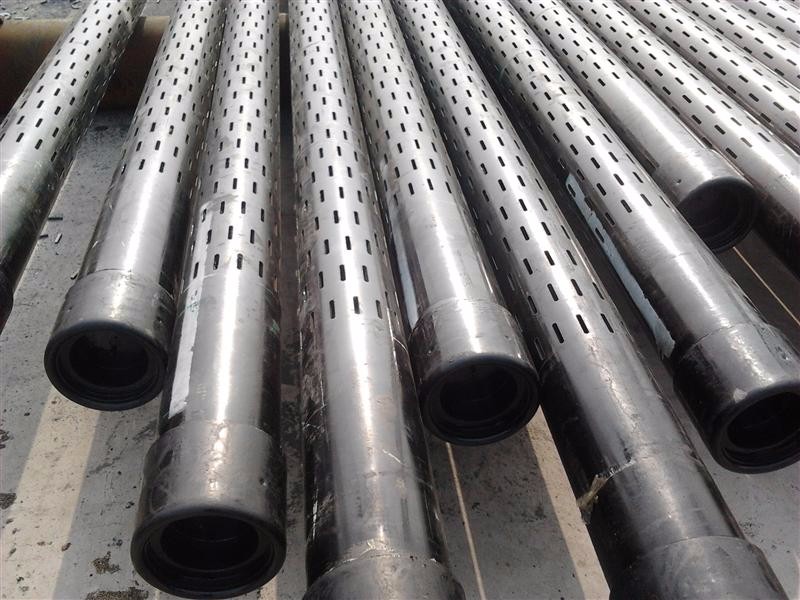 Bore Casing Pipe, Perforated pipe
March 21, 2018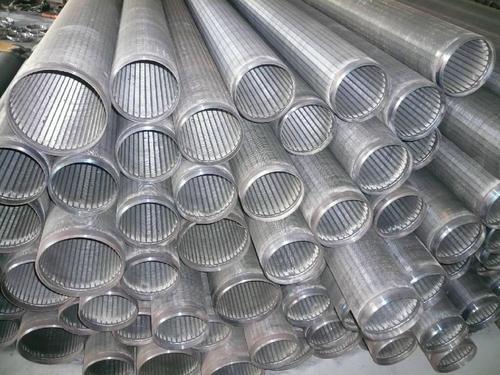 galvanized water well casing pipes and filters
March 22, 2018
ASTM A 312 Perforated Well Casing Pipe
1. Our perforated pipe use J55/K55/N80 casing and tubings of API standard and stainless steel casing pipe, with High overall strength, not so easy to deform.
2. The hole is uniform and smooth without burrs.
3. The whole pipe will be anticorrosion treated and form a protective covering. It can effectively improve the resistance to corrosion and abrasive resistance of the pipe, prolong the working life underground.
4. Perforated casing pipe is easy to operate and convenient to use.
5. The hole size and number can be custom designed.
Normal diameter
 from 1.05″-20inch
Wall thickness
from 5mm to 20mm
Note: other specifications available as per request
Hole diameter
9.5mm, 12mm,16mm,19mm,20mm also achieved upon request
Material
Stainless Steel, or carbon steel J55,K55,N80,L80,P110
Length
5.8m, 6m, 12m or  range length R1,R2,R3
End connection

API thread(LTC,STC,BTC), weld collar or bevel ends
SS316L Perforated Stainless Steel Casing Pipe
FOB Price: US $96-498 / Meter
Min. Order: 100 Meters
Type: Welded
Technique: Cold Drawn
Material: Stainless Steel
Surface Treatment: Pickling
Usage: Pipeline Transport, Boiler Pipe, Hydraulic/Automobile Pipe, Oil/Gas Drilling, Construction & Decoration
Section Shape: Round
Contact Now Request Sample Inquiry Basket
Manufacturer Stainless Steel 316L 14″ Perforated Well Casing Pipe
FOB Price: US $30 / Meter
Min. Order: 10 Meters
Material: Metal
Layers: Single
Usage: Liquid Filter
Type: Filter Cylinder
Hole Shape: Round
Structure: Single Network
Contact Now Request Sample Inquiry Basket
Year 2018 Stainless Steel 316L 406.4mm Perforated Casing Filter Pipe
FOB Price: US $115 / Piece
Min. Order: 1 Piece
Type: Welded
Technique: ERW
Material: Stainless Steel
Surface Treatment: Pickling and Passivation
Usage: Pipeline Transport, Boiler Pipe, Hydraulic/Automobile Pipe, Oil/Gas Drilling, Food/Beverage/Dairy Products, Machinery Industry, Chemical Industry, Mining, Construction & Decoration, Special Purpose
Section Shape: Round
Contact Now Request Sample Inquiry Basket
Stainless Steel Perforated Casing Pipe for Well Drilling
FOB Price: US $20-99 / Meter
Min. Order: 5 Meters
Type: Seamless
Technique: Cold Drawn
Material: Stainless Steel
Surface Treatment: Antiseptical
Usage: Oil/Gas Drilling
Section Shape: Round
Contact Now Inquiry Basket
16″ Stainless Steel 316L Perforated Well Casing Pipe
FOB Price: US $30 / Meter
Min. Order: 10 Meters
Material: Metal
Layers: Single
Usage: Liquid Filter
Type: Filter Cylinder
Hole Shape: Round
Structure: Single Network
Contact Now Request Sample Inquiry Basket
13 3/8″ Stainless Steel 316L Perforated Well Casing Pipe China Manufacturer
FOB Price: US $30 / Meter
Min. Order: 10 Meters
Material: Metal
Layers: Single
Usage: Liquid Filter
Type: Filter Cylinder
Hole Shape: Round
Structure: Single Network
Contact Now Request Sample Inquiry Basket
Stainless Steel 316L 16inch Perforated Casing Pipe
FOB Price: US $30 / Meter
Min. Order: 10 Meters
Material: Metal
Layers: Single
Usage: Liquid Filter
Type: Filter Cylinder
Hole Shape: Round
Structure: Single Network
Contact Now Request Sample Inquiry Basket
Austenitic Stainless Steel 304 Perforated Casing Screen Pipes
FOB Price: US $92-105 / Meter
Min. Order: 100 Meters
Type: Welded
Technique: ERW
Material: Stainless Steel
Surface Treatment: Pickling
Usage: Pipeline Transport, Boiler Pipe, Hydraulic/Automobile Pipe, Oil/Gas Drilling, Construction & Decoration
Section Shape: Round
Contact Now Request Sample Inquiry Basket
16″ Stainless Steel Perforated Casing Screen Pipe for Well Drilling
Min. Order: 1 Meter
Temperature Classification: Medium Temperature Piping
MPa Classfication: High Pressure Piping
Material: Stainless Steel
Standard: ASTM
Diameter: 406mm
Medium: Liquid
Contact Now Inquiry Basket
Stainless Steel 316L Perforated Casing Pipe Slot Pipe for Well Drilling
Min. Order: 1 Meter
Temperature Classification: Medium Temperature Piping
MPa Classfication: High Pressure Piping
Material: Stainless Steel
Standard: ASTM
Diameter: 406mm
Medium: Liquid
Contact Now Inquiry Basket
ASTM A312 Stainless Steel 316L Perforated Casing Pipe
Min. Order: 1 Meter
Temperature Classification: Medium Temperature Piping
MPa Classfication: High Pressure Piping
Material: Stainless Steel
Standard: ASTM
Diameter: 406mm
Medium: Liquid
Contact Now Inquiry Basket
10mm Hole Size API J55/N80 Perforated Steel Casing Pipe
FOB Price: US $20-99 / Meter
Min. Order: 5 Meters
Type: Seamless
Technique: Cold Drawn
Material: Stainless Steel
Surface Treatment: Antiseptical
Usage: Oil/Gas Drilling
Section Shape: Round
Contact Now Inquiry Basket
Oasis 5-1/2″ API 5CT J55 Perforated Casing Pipe for Oil Well Filter
FOB Price: US $20-99 / Meter
Min. Order: 5 Meters
Type: Seamless
Technique: Cold Drawn
Material: Stainless Steel
Surface Treatment: Antiseptical
Usage: Oil/Gas Drilling
Section Shape: Round
Contact Now Inquiry Basket
Manufacture API J55 K55 5″ Oil Slotted Casing Drilling Perforated Pipe
FOB Price: US $20-99 / Meter
Min. Order: 5 Meters
Type: Seamless
Technique: Cold Drawn
Material: Stainless Steel
Surface Treatment: Antiseptical
Usage: Oil/Gas Drilling
Section Shape: Round
Contact Now Inquiry Basket
Factory Supply 7″ Perforated Base Pipe with Stainless Steel Screen Jacket
FOB Price: US $50-500 / Piece
Min. Order: 1 Piece
Material: Metal
Layers: Bunk
Usage: Liquid Filter
Type: Filter Cylinder
Hole Shape: Round
Structure: Multilayered
Contact Now Request Sample Inquiry Basket
Stainless Steel Wedge Wire Pipe Based Well Screen
FOB Price: US $80-300 / Piece
Min. Order: 10 Pieces
Material: Metal
Layers: Single
Usage: Liquid Filter, Solid Filter
Type: Filter Elements
Hole Shape: Round
Structure: Single Network
Contact Now Inquiry Basket
API 5CT Btc K55 Perforated Casing Pipe for Oil Well and Water Well
Min. Order: 1 Meter
Temperature Classification: Medium Temperature Piping
MPa Classfication: High Pressure Piping
Material: Stainless Steel
Standard: ASTM
Diameter: 406mm
Medium: Liquid
Contact Now Inquiry Basket
API Perforated Casing Pipe
Min. Order: 1 Meter
Temperature Classification: Medium Temperature Piping
MPa Classfication: High Pressure Piping
Material: Stainless Steel
Standard: ASTM
Diameter: 406mm
Medium: Liquid
Contact Now Inquiry Basket
SS316L Perforated Well Pipe for Ground Water and Drainage
FOB Price: US $30 / Meter
Min. Order: 10 Meters
Material: Metal
Layers: Single
Usage: Liquid Filter
Type: Filter Cylinder
Hole Shape: Round
Structure: Single Network
Contact Now Request Sample Inquiry Basket
ASTM A312 AISI304L Perforated Casing Pipe for Water Well Drilling
FOB Price: US $30 / Meter
Min. Order: 10 Meters
Material: Metal
Layers: Single
Usage: Liquid Filter
Type: Filter Cylinder
Hole Shape: Round
Structure: Single Network
Contact Now Request Sample Inquiry Basket
China Manufacturer of API J55 Perforated Pipes for Drainage
FOB Price: US $20-99 / Meter
Min. Order: 5 Meters
Type: Seamless
Technique: Cold Drawn
Material: Stainless Steel
Surface Treatment: Antiseptical
Usage: Oil/Gas Drilling
Section Shape: Round
Contact Now Inquiry Basket
China Manufacture API Standard Perforated Steel Pipe for Drainage
FOB Price: US $20-99 / Meter
Min. Order: 5 Meters
Type: Seamless
Technique: Cold Drawn
Material: Stainless Steel
Surface Treatment: Antiseptical
Usage: Oil/Gas Drilling
Section Shape: Round
Contact Now Inquiry Basket
Anti-Corrosion Perforated Pipes API J55 with Uniform and Smooth
FOB Price: US $20-99 / Meter
Min. Order: 5 Meters
Type: Seamless
Technique: Cold Drawn
Material: Stainless Steel
Surface Treatment: Antiseptical
Usage: Oil/Gas Drilling
Section Shape: Round
Contact Now Inquiry Basket
China SS316L API Standard Perforated Steel Pipe for Drilling
FOB Price: US $20-99 / Meter
Min. Order: 5 Meters
Type: Seamless
Technique: Cold Drawn
Material: Stainless Steel
Surface Treatment: Antiseptical
Usage: Oil/Gas Drilling
Section Shape: Round