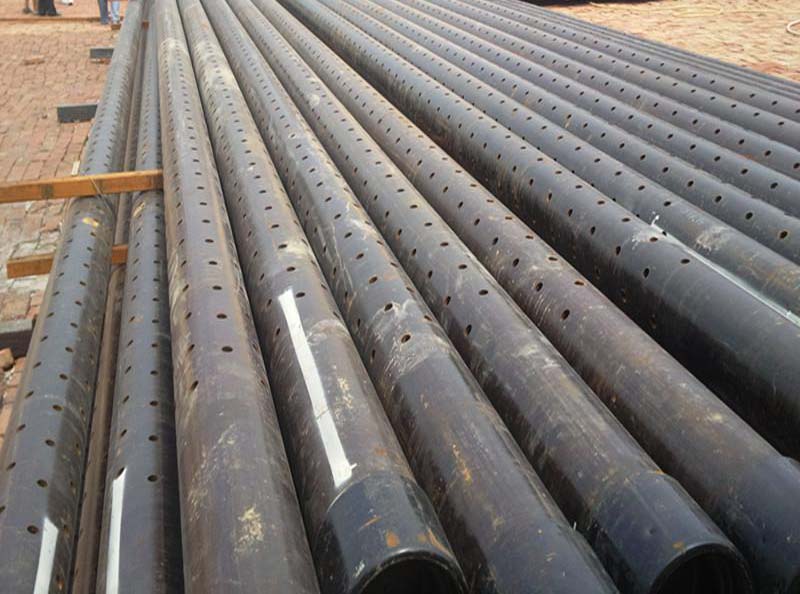 ASTM A312/A312M stainless steel Perforated Casing Pipe
March 8, 2018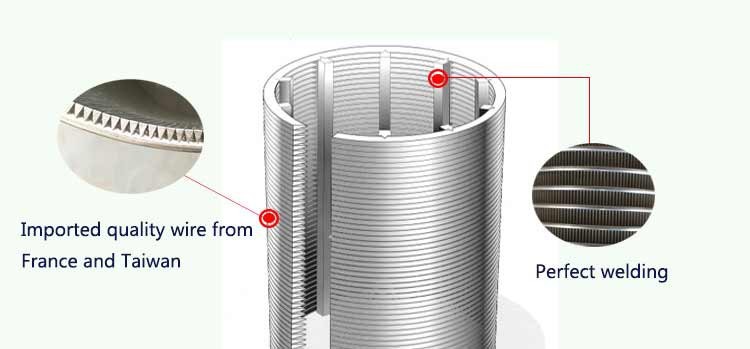 Wire wrapped pre packed sand screen
March 9, 2018
perforated screen pipe and tubes are common casing layer for pipe-core wire wrapped well screens. The perforated casing tube has round holes uniformly distributed for smooth flow of the liquid. It is actually a supporting pipe for sand control system in drilling oil or water wells. The metals are mostly stainless or mild steel.
perforated screen pipe for water well use welded or seamless stainless steel pipe,
with high overall strength, not so easy to deform.
2. The hole is uniform and smooth without burrs.
3. The whole pipe will do pickling and  passivation treatment to prevent corrosion as per customer's requirements.
4. Perforated casing pipe/tube is easy to operate and convenient to use.
5. The hole size and number can be custom designed.
perforated screen pipe for water well Material: plate of Iron, zinc-coated, aluminium, stainless steel, brass/copper/phosphor copper or PVC. produced to punching mesh,perforated metal, perforated wire mesh,perforated screen, Punched mesh, punch hole mesh.
Perforated metal mesh SpecificationsThickness0.03mm-15mm
Stainless offers special stainless steel perforated pipe for filter beds in water treatment and related technologies.The use of stainless steel Punching Hole panels in Water Treatment Works is becoming more common. Where ceramic tiles need to be entirely replaced, a cost effective option is to adopt the use of perforated stainless steel plate.Punching Hole sheet Applications: widely applied in petroleum chemical, mine, power plant, building engineering, protection, ventilation, decoration, furniture, agricultural mechanism, mine mechanism, space, etc.
The Specifications
| | |
| --- | --- |
| Name | API perforated Casing Pipe |
| Size | 1″ to 20″ |
| Hole Size | 6mm,9mm,10mm,11mm,12mm,16mm,18mm,20mm |
| Length | 1meter to 12meters |
| Material | Carbon, Stainless steel, Duplex stainless steel |
| Connection | Plian ends, Threads Ends |
Product parameters
| | | | |
| --- | --- | --- | --- |
| Pipe Size (inch) | Number of hoses (sq in./ft) | Hole Diameter (inch) | Open Area (sq in./ft) |
| 3/4 | 78 | 3/16 | 2.15 |
| 1 | 54 | 5/16 | 4.14 |
| 1-1/4 | 66 | 5/16 | 5.06 |
| 1-1/2 | 78 | 5/16 | 5.98 |
| 2-1/16 | 78 | 5/16 | 5.98 |
| 2-3/8 | 90 | 3/8 | 9.94 |
| 2-7/8 | 102 | 3/8 | 11.26 |
| 3-1/2 | 126 | 3/8 | 13.91 |
| 4 | 138 | 3/8 | 15.24 |
| 4-1/2 | 150 | 3/8 | 16.56 |
| 5 | 162 | 3/8 | 17.88 |
| 5-1/2 | 174 | 3/8 | 19.21 |
| 6-5/8 | 186 | 3/8 | 20.53 |
| 7 | 222 | 3/8 | 24.51 |
| 9-5/8 | 294 | 3/8 | 32.46 |