continuous-slot water well screen pipe,Wedge wire pipe
February 21, 2018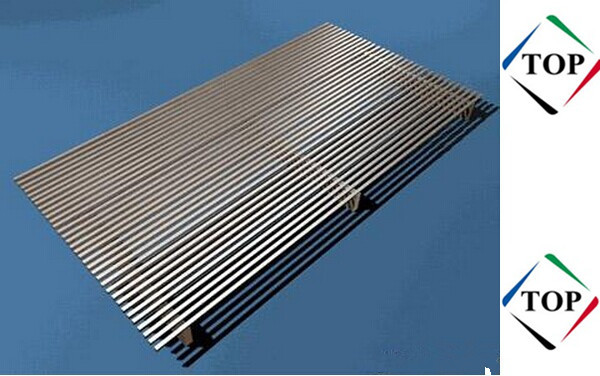 Wedge Wire Sieve Plate,Sieve Plate Wedge Wire Lauter Tun Screen
February 24, 2018
The welded continuous slot wedge wire screens is used throughout the world for water, oil, and gas wells, and for environmental well completions. It is the dominant screen type used in the water well industry.It is made up of rods and warp.the rod can be round wire,triangular wire and trapezoid wire.The rod can be round wire, triangular wire or trapezoid wire. The wire is triangular wire (V-shaped wire).Water well screens have a structure and high open area, as well as accurate slot dimension. At the same time, water well screens have heat-resisting, anti-corrosive, good machine capability, last long,safety and reliability and so on characteristics. It can be used in many kinds of medium filtering.
Specification (wedge wire):
Width(mm): 1.50 1.80 2.30 3.00 3.30 3.70
Height(mm): 2.20 2.50 2.70 3.60 4.30 4.70 5.60 6.30 7.00
Specification (support rod):
Width(mm): 2.30 3.00 3.30 3.70
Height(mm): 2.70 3.60 4.70 5.60 6.30
Round: From 2.50mm to 6.0mm
Note: other specifications available as per request
Slot size:0.10, 0.15, 0.20, 0.25, 0.30… 6.00mm also achieved upon request.
Material:galvanized low carton (LCG), stainless steel (304,316 etc.)
Length:up to 6 meters
Diameter:from 25mm to 1200mm.
1. Generation process congruity: V-shaped profile wires creating slots which extend internally and accordingly avoid stopping up and limit downtime.
2. Low support costs: Separation at the screen surface which can without much of a stretch cleaned by scratching or discharging.
3. Greatest process yield: Precise and persistent space openings bringing about exact division without misfortune off media.
4. Low operational costs: Large open region with an effective stream, high return and a low weight drop (dP)
5. Long live: Welded at every crossing point creating a solid and strong screen.
6. Decreased establishment costs: supporting developments taking out exorbitant help media and empowering a greatest adaptability in the outline of segments.
7. Concoction and warm safe: A variety of erosion safe stainless steel materials and numerous fascinating composites reasonable for high temperatures and pressures.Each space opening between contiguous wires is V-shaped, coming about because of the uncommon state of the wire used to frame the screen surface. The V-shaped opeings, intended to be nonclogging, are tightest at the external face and broaden inwardly.Continuous-space screens provide more admission region per unit territory of screen surface than some other sort. For any given space estimate, this kind of screen has most extreme open zone.
Application
widely used in mineral processing,coal processing,food processing,water treatment,petrochemical industry,architecture industry, as well as many other applications involving liquid & solids separation.