Pipe base Wedge Wire Screen Advantages Features
November 11, 2016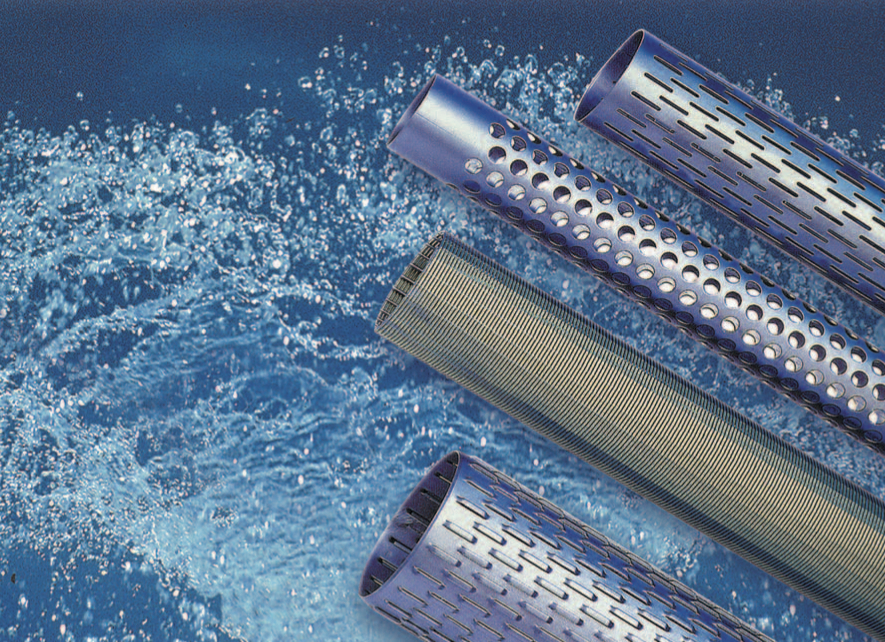 johnson Wedge Wire Screen Filter Mesh, Stainless Steel, deep well strainer pipe
December 31, 2016
WATER WELL SCREENS
Wedge Wire Screen, also called wire wrapped screen, v wire screen, Water well screens, wedge wire well screens, V wire screens, continuous slot well screens, wire wrapped screens, Screen Cylinders, wedge slot tubes, wire wrap screen, profile wire screen and continuous slot screen. It is a welded steel structure, profile wire usually V-shaped, that are resistance welded onto support rods. Each intersection of the profiles wire and support rod is well welded. The wedge wire screen has a smooth surface, resistant to clogging and a greater structural strength. The numerous combinations of profile wires and support rods, and the wide range of apertures between the wires and rods allows us to design a screen according your required specification.
perfect roundness Slot tube are welded structures with the support profiles being rods in the axial direction of the tube and surface profiles spirally wound around the support profiles.
perfect roundness Slot Tube are manufactured directly on a machine. They have the unique advantage of very accurate, narrow slot openings and perfect roundness all in one. Slot tubes can be provided with the necessary end pieces for attachments and/or reinforcements.
Advantages of wedge wire screen
*non-clogging: the continuous slot formed by the V-shaped surface wires ensures a
two-point contact between the particles and the slot, which minimizes clogging.
*high-precision slot sizes: precise slot sizes are available to meet customer´s requirements.
*surface filtration: the V-shaped surface wires allow easy cleaning by mechanical scraping or back flushing.
*low pressure-drop.
*etrong construction: for most applications, the wedge wire screen is self-supporting, because of the welding at each intersection.
Specifications:
SIZE
(INCH)
O.D
(MM)
SLOT
(INCH)
LENGTH
(M)
COLLAPSE
STRENGTH
(PSI)
TENSILE
WEIGHT
(TON)
WRAP(thick*deep)
(MM)
RODS
(MM)
4
117
0.040
3
395
6
2.2*3.0
3.8MM/22
4
114.3
0.040
3
395
6
2.3*3.0
3.8MM/22
6
168.3
0.040
3
252
8
2.3*3.5
3.8MM/32
8
219.1
0.010
3
399
10.5
3.0*5.0
3.8MM/48
8
219.1
0.020
3
370
10.5
3.0*5.0
3.8MM/48
8
219.1
0.040
3
323
10.5
3.0*5.0
3.8MM/48
10
273.1
0.010
3
206
11
3.0*5.0
3.8MM/50
10
273.1
0.020
3
191
11
3.0*5.0
3.8MM/50
10
273.1
0.040
3
167
11
3.0*5.0
3.8MM/50
Standard constructions of slot tubes (special constructions are possible on request)
The designation of a slot tube describes its construction as follows:
surface wire / support wire x number of support wires.
Example: 12S/Q25 x 8
This means that the profile wire is 12S. The support wire is Q25 and there are 8 support wires, equally spaced over 360°.
Slot tubes with dimensions and/or tolerances other than those described below, are available on request.
Reversed profile
Normal construction of slot tubes allows for flow out to in filtration. However, flow-in -to-out constructions are also possible.
This construction can also be used when the slot tube is used as support tube for another filter medium, so that only the wedge is in contact with the medium to increase the open area.
Variable slot opening
For special purposes variable slot openings are possible for all diameters.
Continuous cylinders
By using a lot of support profiles, an axial slot can be obtained.
These filter elements are called continuous cylinders.
A wedge shaped wire is wrapped / spirally wound on internal array of support rods. Each and every intersection is welded automatically. This creates a continuous non clogging slot.
Sizes: Right from 1″ dia to 40″ dia & above
Slot: From 0.05 to 60mm & above
Lengths: 10 ft, 20 ft up to 40 ft in single piece construction
Material of Construction: Stainless Steel- 300 Series, Duplex & Super Duplex Stainless Steels. Low carbon galvanized
End Connection: Welded rings(plain beveled ends for butt welding) or threaded male and female coupling(spiral)
Wire-Wrapped of Stainless Steel Screen Pipe
Screen Tube, Screen Pipe, Oil Well Screen
Wedge Wire Stainless Steel Screen
Wedge Wire Stainless Steel Screen for Water Well
Stainless Steel Wedge Wire Screen for Water Supply
Wedge Wire Stainless Steel Well Screen
Slot Tube / Vee Wire and Rod Wound Filter for Waste Water Treatment Filtration
Ss Wedge Wire and Rod Wound Candle Filters for Boll Candle Filter Element Is Used in Ship
Made in China! Stainless Steel Johnson Wedge Wire and Rod Welded Screen for Waste Water Treatment
Johnson Larger Wires and Rods Wound Screen for Heavy-Duty Operations and Deep Well
Stainless Steel Johnson Wedge Wire Welded Filter for Waste Water Treatment
Stainless Steel Inclined Rotary Screen/ Wedge Wire Wound