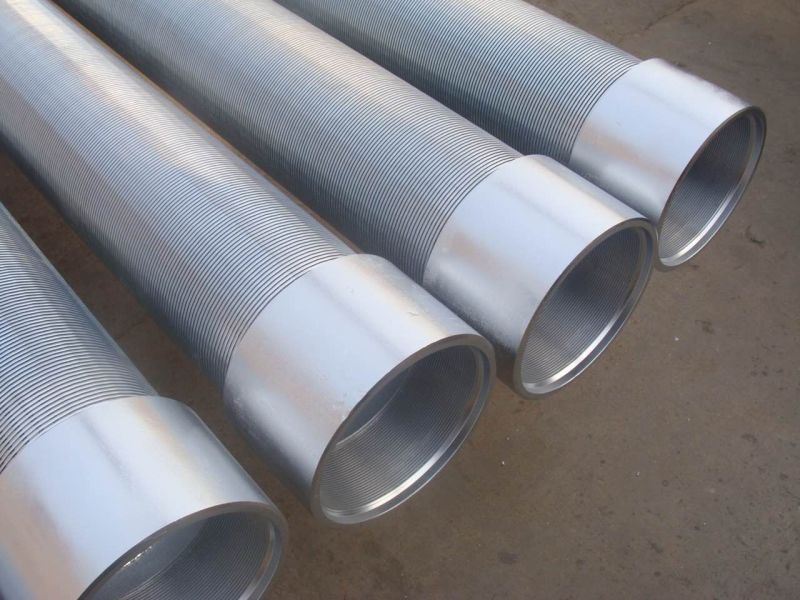 Types of wedge wire screen pipe _ water & oil filtration
January 27, 2018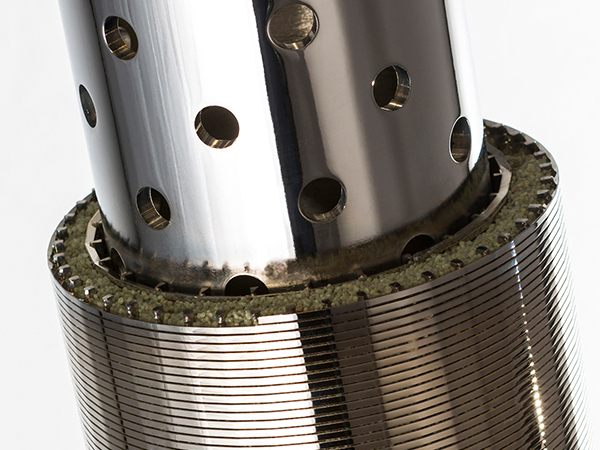 What Is The Oil Sand control Screen
January 31, 2018
between wire wrapped screen Definition:
wire wrapped well screen pipe is manufactured from two components: the base pipe and the slip-on screen.The base pipe will be perforated with a series of holes drilled to a pre-determined quantity and pattern, to carefully balance flow-capacity at each end for both down-hole handling.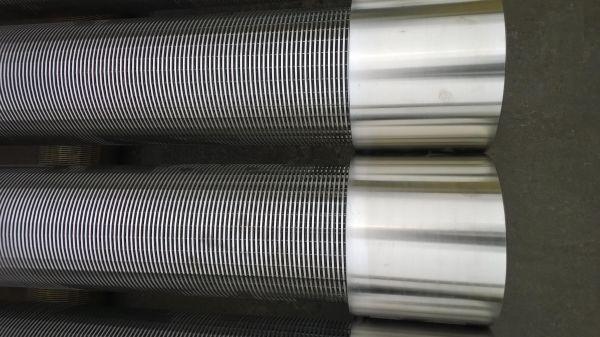 The holes are then debarred and the joint cleaned, inspected and treated to give the wire wrapped screen pipe a long shelf life.Our slip-on screens are manufactured to very exact diameter, length gauge and strength tolerances.
This is done by selecting the required profile wire and support rod, which determine the flow-capacity and strength of the slip-on screen.
Pipe based Wire Wrapped Screen for Water Source Wells
Screen
API Pipe
ID(mm)
OD(mm)
SLOT(mm)
Normal size(inch)
OD(mm)
63
73
0.10-3
2-3/8"
60.3
74
85
0.10-3
2-7/8"
73
92
102
0.10-3
3-1/2"
88.9
103
127
0.10-3
4"
101.6
116
130
0.10-3
4-1/2"
114.3
129
142
0.10-3
5"
127
142
154
0.10-3
5-1/2"
139.7
172
184
0.15-3
6-5/8"
168.3
183
195
0.15-3
7"
177.8
220
232
0.15-3
8-5/8"
219.1
246
260
0.25-3
9-5/8"
244.48
276
290
0.25-3
10-3/4"
273.05
342
355
0.25-3
13-3/8"
339.70
Length of screen 5m*1
Length of pipe( m)
5.8
Length of screen 4.5 m * 2
9.3~9.6
Length of screen 5 m * 2
11~12
For each gauge opening in the screen we select a slightly greater than that of the perforated wire wrapped well screen pipe.
This will give the pipe base screen optimum flow-capacity at minimum pressure drop across the screen.The wire wrapped well screen, casing or tubing, is selected to API specifications by size, grade and weight for each of your required applications.
What's the difference between wire wrapped screen and Slotted Casing Pipe?
Slotted casing Pipe is a kind of screen which uses various ways to cut out a plurality of longitudinal or helical vertical and staggered slits in the oil casing or tubing. It is made of a special ultra-thin cutting piece and a beam of light. The seam width is 0.2 mm-0.5 mm, the shape of the section is rectangular, trapezoidal or circular hole shape, it can guarantee 0.5%-10% permeability.
The gap distribution of oil slotted casing pipe can be customized according to the user's requirements. The gap of wire wrapped filter pipe can be accurately and arbitrarily wound on the base tube, and the width of the slit can be controlled in 0.15-0.5±0.05 mm, so that the need of sand control is completely satisfied. Stainless steel wire has acid resistance. Anti-alkali, salt corrosion resistance, the gap will not be caused by corrosion of the phenomenon of widening..
The inner of the filter sleeve of the slotted tube liner is supported by the base pipe, which has sufficient strength and strong ability to resist deformation. Slotted casing Pipe has good sand-control performance and no blockage, which can effectively improve the quality of oil recovery. Often used in horizontal wells, side drilling, radial branch horizontal wells, open hole, gravel filling screen completion. In foreign countries, similar completion of the use of screen screens up to 90%, is now the special production process of the preferred special supporting pipe..
Slotted casing Pipe According to its use can be divided into two categories, the oil slit pipe and mining cut seam pipe, they use a variety of steel-grade pipe, in line with national safety standards, to meet a variety of needs.
Oil slotted casing Pipe, wire wrapped filter Pipe, and other oil screens have their own advantages, users just according to their actual needs to choose.
Slotted liner well screen for water and oil well Definition:
The slotted liner well screen using in oil exploration can prevent 99% sand, decrease 80% of oil well heavy maintenance, as well increase the strength of the oil well, integrality and stability of keeping sand off. Meanwhile, the laser incision tech can make the slot be smooth and precision. The structure of slotted casing pipe is sample, but it works highly efficient.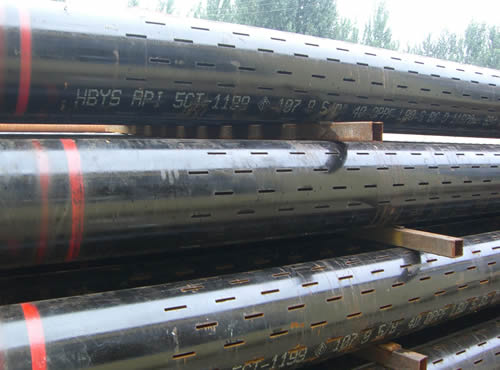 Spec of slotted liner well screen
API Casing pipe
ID
mm
Length
m
Slot Length
mm
Slot No.
No./m
Slot width
mm
Slot
Tolerance
Valid Filter
Area
cm/m
Max.
Strength
KN
Spec
mm
Thickness
mm
Per Weight
kg/m
60.32
5
6.84
50.3
3
80
200
0.3
±50
48
512.54
73.02
5.5
9.15
62
240
57.6
688.55
88.9
6.5
13.22
75.9
280
67.2
995.1
101.6
6.5
15.22
88.6
300
72
1151.2
114.3
7
18.47
100.3
10
320
76.8
1400.4
127
7.52
22.13
112
340
81.6
1673.8
139.7
7.72
25.11
124.3
360
86.4
1900.2
9.17
29.48
121.4
360
86.4
2232.4
168.3
8.94
35.09
150.4
400
96
2672.95
177.8
8.05
33.68
161.7
440
105.6
2559.2
9.19
38.19
159.4
440
105.6
2940.7
Contact information: