Johnson water well screen
August 1, 2016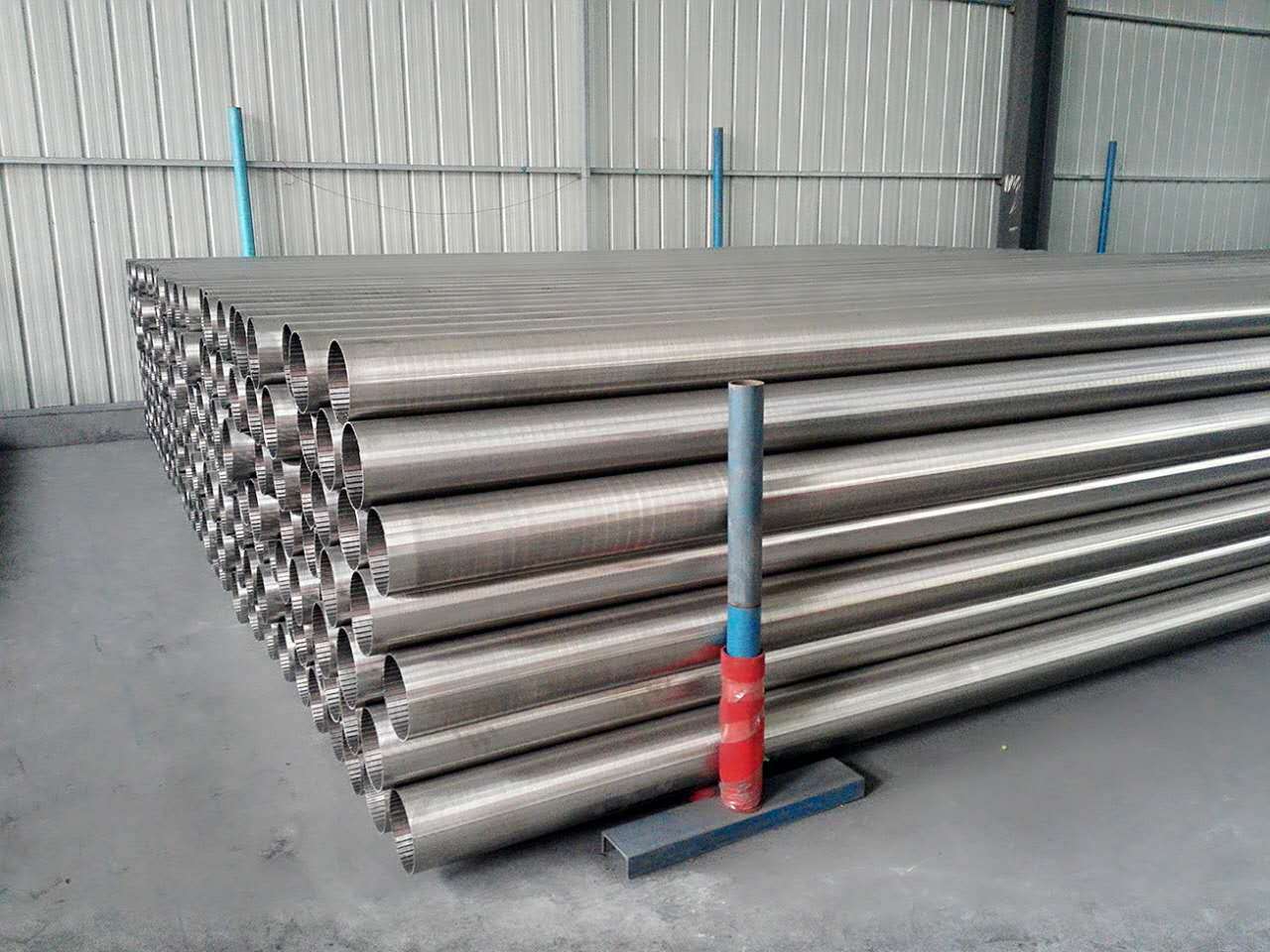 Slotted wedge wire well screen filter
December 23, 2016
Wedge wire screen features self cleaning and non clogging
Wedge wire screen, a rod-based wire wrapped screen features the largest open area compared with either slotted liner or pipe-based screen. Versatile wedge wire screens can be found in a great number of well applications, such as rude oil production, natural gas production, vessel internals and ground water exploration and so on.
*non-clogging: the continuous slot formed by the V-shaped surface wires ensures a
two-point contact between the particles and the slot, which minimizes clogging.
*high-precision slot sizes: precise slot sizes are available to meet customer´s requirements.
*surface filtration: the V-shaped surface wires allow easy cleaning by mechanical scraping or back flushing.
*low pressure-drop.
Materials
Wedge wire screens are usually fabricated by stainless steel 304 and 316L, low carbon steel, galvanized steel. However, optional temperature is another important element to be considered. So, wedge wire screens made of other materials are at stock, including Monel 400, Hastelloy (C4, C22, C276) and Inconel 600.
*etrong construction: for most applications, the wedge wire screen is self-supporting, because of the welding at each intersection.
*reliable sand control as well as resistance against plugging.
*superior mechanical strength meanwhile ensure the production rate
*corrosion and erosion resistance ability
Wedge Wire Screen, also called wire wrapped screen, v wire screen, profile wire screen and continuous slot screen. It is a welded steel structure, profile wire usually V-shaped, that are resistance welded onto support rods. Each intersection of the profiles wire and support rod is well welded. The wedge wire screen has a smooth surface, resistant to clogging and a greater structural strength. The numerous combinations of profile wires and support rods, and the wide range of apertures between the wires and rods allows us to design a screen according your required specification.
 Pipe base screen combines the hydraulic efficiency of a continuous slot wedge wire screen with the strength of a pipe, so it is also called double layer screens. 2 types base pipe here perforated pipe and slotted pipe usually. Every hole and slot on the base pipe is visually inspected and cleaned of burr material. Base pipes can be manufactured using stainless steel grades or API 5CT carbon steel casing. Screen and pipe are welded together to make a rugged, reliable unit for deep vertical wells and long, horizontal remediation of supply wells. The pipe based screen is recommended when high collapse resistance is required and when the screens' length generates a high longitudinal constraint.
Guangxing Well Screen can produce all standard pipe and telescope screen sizes, as well as any custom diameters to meet your application requirements. For more information on pipe base screens please contact us right now.
Stainless steel wedge wire screen construction
Wedge wire screen diagram Rods spaced evenly around the circumference support the screen and prevent the screen from deformation.
V-shaped wire produces self-cleaning action and non-clogging performance. The slot width on surface is increasing towards the internal side of the screen. This slot geometry is called keystone slot which has the ability of anti-plugging. Precise slot width should be designed to satisfy operation requirements. Usually, the slot width is two times the size of the formation sand.