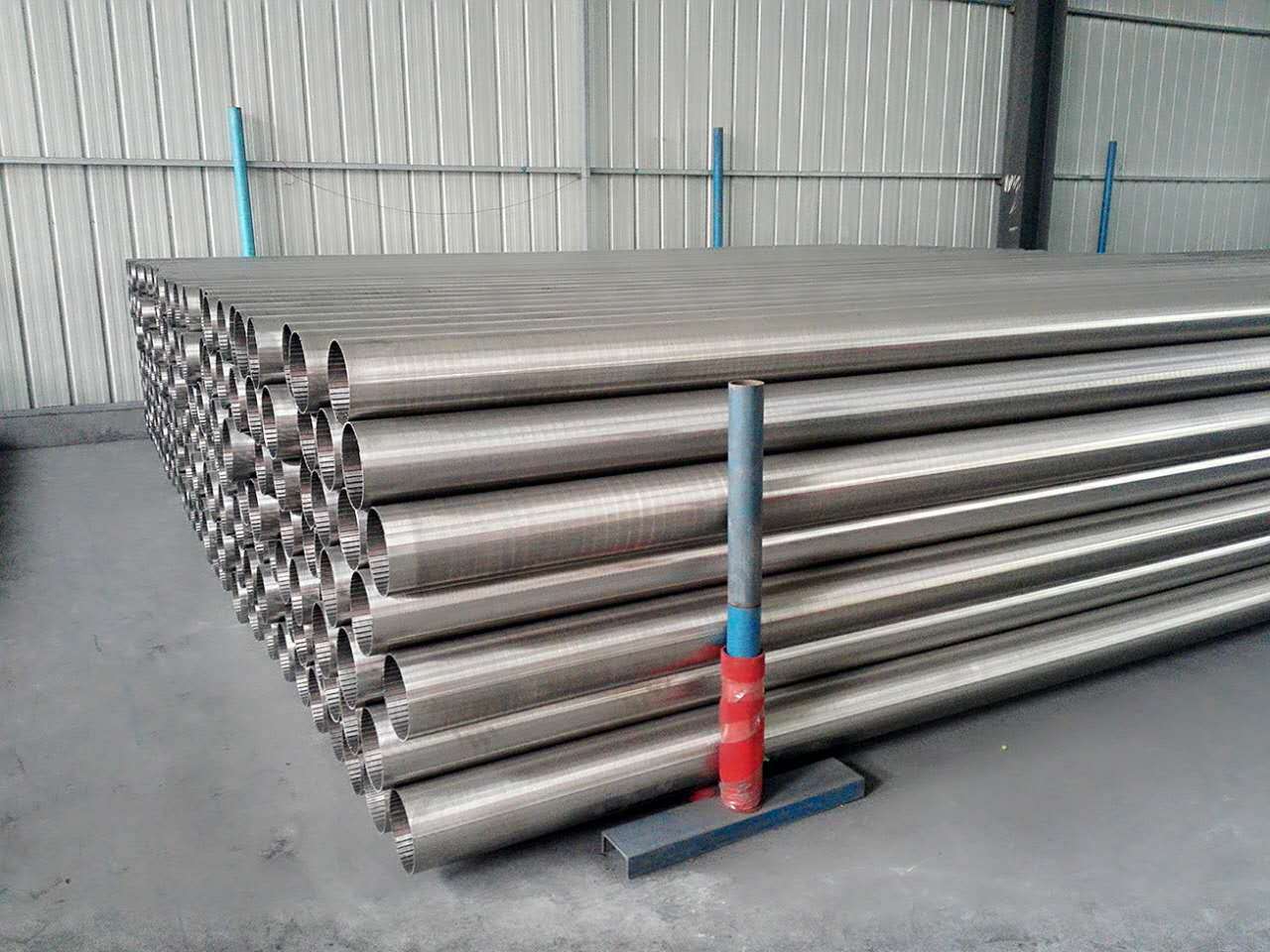 Slotted wedge wire well screen filter
December 23, 2016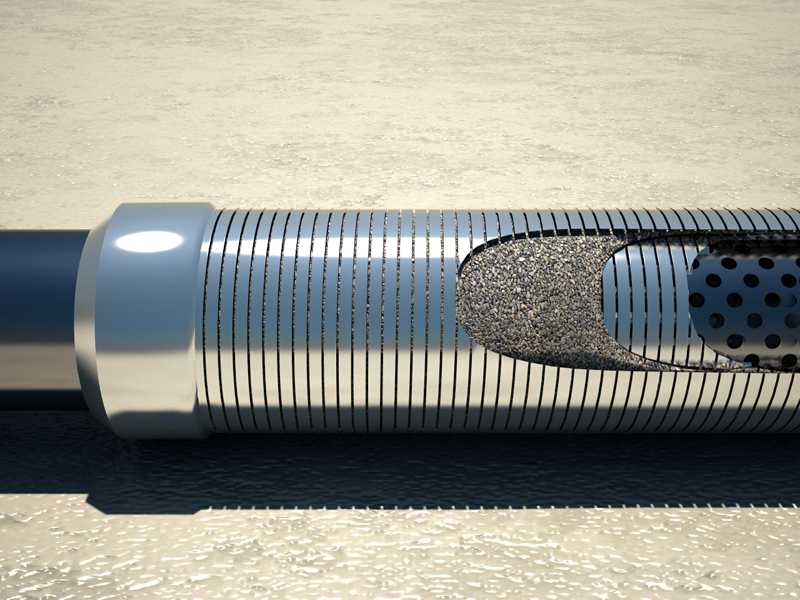 Pre-Pack Water Well Screen Systems, Stainless Steel and Slot prepacked
January 9, 2017
johnson Wedge Wire Screen Filter Mesh specification:
Type
Grade
Thickness (mm)
Aperture (mm)
Round barrel-shaped Sieving Mesh
High
2
0.5
Middle
2.0-2.5
0.5-3
Low
2.0-2.5
above 3
Sieving Basket
High
2
0.5
Middle
2.0-2.5
0.5-3
Low
2.0-2.5
above 3
Strip Sieving Mesh
High
2
0.5
Middle
2.0-2.5
0.5-3
Low
2.0-2.5
above 3
Ss 304 deep well strainer pipe/water well screen tube/johnson stainless steel water well screen
About us
we registered on 2011 year with the registered capital 4157000RMB. Our mainly products include the wire wraped screen pipe, Johnson screen, Slotted filter. Performance our products are mostly used for oil gas and water well to filter sand and other water treatment, filtering progress,petrochemical etc. There are four production line for producing the wire wrapped filters.The production capability could achieve 10 000 meters per year, the material includes stainless steel AISI304, AISI316 etc, the specification can be customized by client.
Wedge Wire Screen Products
wedge wire screen characteristics
High impact resistance
Large open area
Self-supporting structure
High mechanical strength
High wear resistance
Non-plugging slot design
Lower operation and maintenance cost
High rate of sieve net, wear-resistant, corrosion-resistant, non-slip, anti-vibration, flexibility, toughness, not close together. The cross-section of the mesh trapezoid. The gap on the narrow width. Screen bars made of cold-rolled stainless steel wire support bar welded using automation mine sieving production equipment, sieve slit uniform, stable welding quality, the opening rate, long service life, high strength, rigidity steel sieving filter device and carrying capacity, can be made into a variety of shapes.
Specification of johnson Wedge Wire Screen Filter Mesh
Specification (wedge wire):
Width(mm): 1.50 1.80 2.30 3.00 3.30 3.70
Height(mm): 2.20 2.50 2.70 3.60 4.30 4.70 5.60 6.30 7.00
Specification (support rod):
Width(mm): 2.30 3.00 3.30 3.70
Height(mm): 2.70 3.60 4.70 5.60 6.30
Round: From 2.50mm to 6.0mm
Note: other specifications available as per request
Slot size:
0.10, 0.15, 0.20, 0.25, 0.30…… 6.00mm also achieved upon request.
Material:
galvanized low carton (LCG), stainless steel (304,316 etc.)
Technical Parameters of johnson Wedge Wire Screen Filter Mesh:
TENSILE

WEIGHT

(TON)

WRAPthick*deep

(MM)

RODS

(MM)

6
22*3.0
3.8MM/22
6
23*3.0
3.8MM/22
8
2.3*35
3.8MM/32
10.5
3.0*50
3.8MM/48
10.5
3.0*50
3.8MM/48
10.5
3.0*50
3.8MM/48
11
3.0*50
3.8MM/50
11
3.0*50
3.8MM/50
11
3.0*50
3.8MM/50
OTHER PRODUCTS AND PRICES :
continuous slot Johnson type screens/water well screens/wedge wire scr…

Min. Order: 1 Meter

FOB Price: US $10 – 89 / Meter

10 3/4inch stainless steel 304 wedge wire screen pipes manufacturer

Min. Order: 1 Meter

FOB Price: US $1 – 80 / Meter

6 inch OASIS V-wire water well screens with open area 25%

Min. Order: 1 Meter

FOB Price: US $30 – 100 / Meter
stainless steel v wire wrapped water well screens China manufacturer

Min. Order: 1 Meter

FOB Price: US $1 – 86 / Meter

8inch stainless steel 316L Johnson type well screens

Min. Order: 1 Meter

FOB Price: US $1 – 65 / Meter

Continuous slot vee shaped wire water well screens

Min. Order: 1 Meter

FOB Price: US $1 – 97 / Meter
10inch wedge wire water well screen pipes with welded ring

Min. Order: 1 Meter

FOB Price: US $1 – 68 / Meter

6″ Water Well Screens,Continuous slot screen,wedge wire screen for Wat…

Min. Order: 1 Meter

FOB Price: US $20 – 500 / Meter

6 5/8″ Water Well Screens for well drilling

Min. Order: 1 Piece

FOB Price: US $10 – 498 / Piece
Stainless Steel 304 cylinder filter wedge wire sieve screens

Min. Order: 1 Piece

FOB Price: US $80 – 200 / Piece

Johnson Type Water Well Screen Pipe

Min. Order: 10 Meters

FOB Price: US $10 – 165 / Meter

Stainless Steel 304L wedge wire filters

Min. Order: 1 Meter

FOB Price: US $1 – 20 / Meter
Stainless steel continuous slot Johnson deep well screens

Min. Order: 1 Meter

FOB Price: US $1 – 66 / Meter

johnson continuous slot wire well screens pump filter pipes

Min. Order: 1 Meter

FOB Price: US $70 – 200 / Meter

Hot Sell SS304 Johnson water well screens

Min. Order: 1 Meter

FOB Price: US $5.8 – 20 / Meter
Wedge Wire Water Well Screen Pipe

Min. Order: 10 Meters

FOB Price: US $10 – 550 / Meter

Stainless Steel Water Well Screen Filter Pipes

Min. Order: 1 Meter

FOB Price: US $5.78 – 20 / Meter

Stainless Steel 316 Johnson type water well screen pipes

Min. Order: 1 Meter

FOB Price: US $100 – 200 / Meter
Stainless Steel 316 wire wrapped screen pipe

Min. Order: 1 Meter

FOB Price: US $1 – 20 / Meter

Drilling water well screens

Min. Order: 1 Meter

FOB Price: US $1 – 20 / Meter

V Wire Wrapped Wedge Wire Water Well Screen

Min. Order: 10 Meters

FOB Price: US $10 – 630 / Meter
Stainless Steel Water Well Screen

Min. Order: 10 Meters

FOB Price: US $10 – 450 / Meter

9 5/8″ Water Well Screens for well drilling

Min. Order: 1 Piece

FOB Price: US $20 – 500 / Piece

316L SS China Deep Well Johnson well screens manufacturer

Min. Order: 1 Meter

FOB Price: US $1 – 89 / Meter
10″ Stainless Steel Water Well Screen for Well Drilling

Min. Order: 1 Piece

FOB Price: US $10 – 500 / Piece

Hot sale API Standard drilling wedge wire screens

Min. Order: 1 Piece

FOB Price: US $1 – 200 / Piece

API standard drilling wedge wire screens

Min. Order: 1 Meter

FOB Price: US $1 – 200 / Meter
12″ AISI 304 Wedge Wire Screen for well drilling

Min. Order: 1 Piece

FOB Price: US $20 – 500 / Piece

SS304L 10 3/4″ Wedge Wire Water Well Screen Pipe for well drilling

Min. Order: 1 Piece

FOB Price: US $20 – 500 / Piece

304L stainless steel V wire shape Johnson screens

Min. Order: 1 Meter

FOB Price: US $1 – 36 / Meter
SS304 Johnson screen filter with thread end for water well drilling

Min. Order: 1 Meter

FOB Price: US $1 – 78 / Meter

Water well drilling water well screens

Min. Order: 1 Meter

FOB Price: US $1 – 529 / Meter

12″ Stainless Steel Water Well Screens manufacturer for well drilling

Min. Order: 1 Piece

FOB Price: US $100 – 500 / Piece