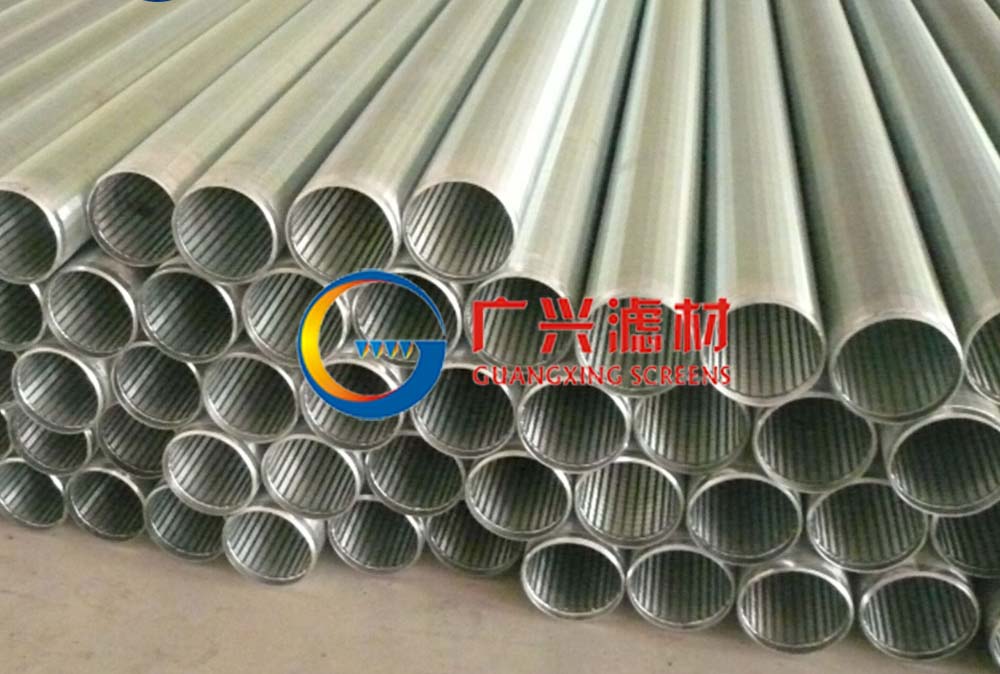 Pipe Based Water Well Screens
November 11, 2017
Laser Cutting Slotted Pipe for Horizontal Completion Well
November 11, 2017
Pre-packed Screens Description
Pre-packed sand control screens are designed using an inner and outer slip on wire wrap jacket screen of differing diameters which are secured together over a perforated base pipe. Thickness and size of medium filter layer depends on well requirements, such as formation size, flow rate, borehole size, etc.
Pre-packed screen used as stand-alone screen Pre-packed screen provide excellence service of sand control in oil, gas and water wells for its unique construction. Pre-packed screen is a modification of pipe-based wire wrapped screen. Its addition of a modular gravel pack makes it especially suitable for sand control where conventional gravel packing fails.
Pre-packed screens is an effective solution for keeping formation sand in its place. Gravel packing is used in conjunction with hydraulic fracturing, but at much lower pressures. Formation sand is produced from the breakdown of formations where wells are located. This occurs particularly in formations made of sandstone, limestone, and other similar types of rock. The main goal of gravel packed is to stabilize the formation and maintain well productivity.
The gravel sand or glass beads / quartz sand or ceramic or other proppant types medium filter is packed utilizing industrial vibrating machines to ensure a void free pack, and is then inspected utilizing high intensity light from the I.D. of the pipe to ensure proper compaction and distribution. The pre-packed assemblies can be manufactured to any desired coverage ratio on the pipe to work in coordination with rig pipe handling arms or to space out to cover specific zones within a reservoir.
Construction:
Pre-packed screen is comprised of six parts (from outer to inner) – outer screen, outer support rod, pre-packed gravel, inner screen, inner support rods and base pipe. This is a typical model of dual-screen prepack which features double wire wrapped screens.
The perforated base pipe is covered by inner wire wrapped jacket, whose diameter is smaller than the outer jacket. Between the two layers of jackets, an annular void is packed with silica sand with the appropriate size. The sand is coated by resin or ceramic beads. The gauge of the jacket wire is determined by the packed sand, while the size of the sand is determined by the formulation particle size distribution.
Materials:
Pre-packed screens can be fabricated in stainless steel 304, 316L, low carbon steel or other special alloys like Monel 400. Materials are available for specific alloy as required.
OEM  size

Features:
Available in oil and gas well completions, especially in an open or cased hole with unconsolidated formations where stand-alone screen is needed.
Pre-packed screen is easy to install for its unique construction.
Stainless steel material gives it ability of resisting erosion.
Pre-packed screen is equipped with packed layer itself. This unique configuration eliminates gravel placement and significantly shorten the time of drilling a well.
Product specifications
Base Pipe
Gravel Pack
Perforations
Screen
OD (in.)
ID (in.)
Weight (lbs.)
Coupling OD (in.)
Thickness (in.)
Size (in.)
Holes/ft.
OD (in.)
Cylinder Area (sq. in./ft)
.006 GA Inlet Area (sq. in./ft)
1.9
1.61
2.75
2.2
0.144
3/8
84
2.72
102.49
6.46
2.063
1.75
3.25
2.5
0.144
3/8
84
2.883
108.63
6.84
2.375
1.99
4.6
2.875
0.144
3/8
96
3.195
120.39
7.58
2.875
2.44
6.4
3.5
0.144
3/8
108
3.695
139.23
8.77
3.5
2.99
9.2
4.25
0.144
3/8
132
4.32
162.78
10.26
4
3.55
9.5
4.5
0.144
3/8
144
4.82
181.62
11.44
4.5
4
11.6
5
0.144
3/8
156
5.32
200.46
12.63
5
4.41
15
5.563
0.144
3/8
168
5.82
219.3
13.82
Stronger construction like support rods reduces maintenance costs.
Pre-packed screen is quite affordable in contrast to slotted liner.
Features self-cleaning and anti-plugging
Gravel Pack Screen Description
Gravel pre-packed wedge wire screens consists of two screens or multilayer screens and the stuffing between the screens.
Perforated pipe inside and Johnson type screens/wedge wire screens  outside.The base pipe can be made of casing pipes, seamless pipe or welded pipe.
ID of Johnson type screen equals OD of the perforated pipe.
Gravel Pack Screen Features
1.The prepack screen also called gravel pack screen which has larger collapse strength than rod based well screen
2.Save more value and drilling process than to use the rod base well screens.
3.The media will help the contractors and the well owner to washing the wells easier.
4.The wide range of diameters (1-1/4 to 20 in.) and connections,weld rings or threaded fittings,provides flexibility for meeting most application needs with a variety of standard or custom-end fittings-offering easier adaptation for a wide array of uses.
Specifications
1.Material: 201 304 304L 316 316L Q235
2.Another name: Pipe base screen
3.Screen jacket: Johnson type screen
4.Base pipe: Perforated pipe
5.Connection type: STC, LTC,BTC threaded
6.Bubble bag, wooden pieces wrapped the Johnson screens
Wedge Wire Screen
Base Pipe
ID(mm)
OD(mm)
Slot(mm)
Normal Size(inch)
OD(mm)
63
73
0.10-3
2-3/8"
60.3
74
85
0.10-3
2-7/8"
73
92
102
0.10-3
3-1/2"
88.9
103
127
0.10-3
4"
101.6
116
130
0.10-3
4-1/2"
114.3
129
142
0.10-3
5"
127
142
154
0.10-3
5-1/2"
139.7
172
184
0.15-3
6-5/8"
168.3
183
195
0.15-3
7"
177.8
220
232
0.15-3
8-5/8"
219.1
246
260
0.25-3
9-5/8"
244.48
276
290
0.25-3
10-3/4"
273.05
342
355
0.25-3
13-3/8"
339.70
Screen Pipe Length 5m*1
Screen Pipe Length( m)
5.8
Screen Pipe Length 4.5 m * 2
9.3~9.6
Screen Pipe Length 5 m * 2
11~12