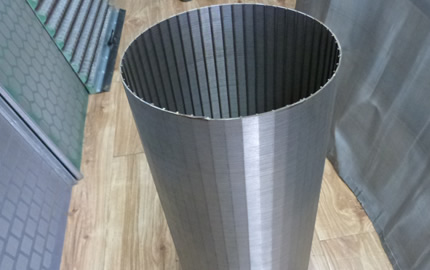 What uses of WELL SCREENS?
November 4, 2017
gravel pack well screen
November 9, 2017
A water well is a hole, shaft, or excavation used for the purpose of extracting ground water from the subsurface. Water may flow to the surface naturally after excavation of the hole or shaft. Such a well is known as a flowing artesian well. More commonly, water must be pumped out of the well.
Most wells are vertical shafts, but they may also be horizontal or at an inclined angle. Horizontal wells are commonly used in bank filtration, where surface water is extracted via recharge through river bed sediments into horizontal wells located underneath or next to a stream. The oldest known wells, Qanats, are hand-dug horizontal shafts extending into the mountains of the old Persian empire in present-day Iran.
Some wells are used for purposes other than obtaining ground water. Oil and gas wells are examples of this. Monitoring wells for groundwater levels and groundwater quality are other examples. Still other purposes include the investigation of subsurface conditions, shallow drainage, artificial recharge, and waste disposal.
In this publication we focus on vertical water-production wells commonly used to supply water for domestic, municipal, and agricultural uses in California. Our purpose is to provide readers with some basic information about water wells to help them understand principles of effective well construction when they work with a professional driller, consultant, or well servicing agency for well drilling and maintenance.
DETERMINING A WELL LOCATION
The location of a well is mainly determined by the well's purpose. For drinking and irrigation water-production wells, groundwater quality and long-term groundwater supply are the most important considerations. The hydrogeological assessment to determine whether and where to locate a well should always be done by a knowledgeable driller or professional consultant. The water quality criteria to use for drinking water wells are the applicable local or state drinking water quality standards. For irrigation wells, the primary chemical parameters of concern are salinity and boron and the sodium-adsorption ratio.
Enough ground water must be available to meet the pumping requirements of the wells. For large municipal and agricultural production wells, pumping rate requirements range from about 500 to 4,000 gallons per minute (gpm). Small- and medium-sized community water systems may depend on water wells that produce from 100 to 500 gpm. Individual homes' domestic wells may meet their needs with as few as 1 to 5 gpm, depending on local regulations.
Product parameters
| | | | |
| --- | --- | --- | --- |
| Pipe Size (inch) | Number of hoses (sq in./ft) | Hole Diameter (inch) | Open Area (sq in./ft) |
| 3/4 | 78 | 3/16 | 2.15 |
| 1 | 54 | 5/16 | 4.14 |
| 1-1/4 | 66 | 5/16 | 5.06 |
| 1-1/2 | 78 | 5/16 | 5.98 |
| 2-1/16 | 78 | 5/16 | 5.98 |
| 2-3/8 | 90 | 3/8 | 9.94 |
| 2-7/8 | 102 | 3/8 | 11.26 |
| 3-1/2 | 126 | 3/8 | 13.91 |
| 4 | 138 | 3/8 | 15.24 |
| 4-1/2 | 150 | 3/8 | 16.56 |
| 5 | 162 | 3/8 | 17.88 |
| 5-1/2 | 174 | 3/8 | 19.21 |
| 6-5/8 | 186 | 3/8 | 20.53 |
| 7 | 222 | 3/8 | 24.51 |
| 9-5/8 | 294 | 3/8 | 32.46 |