Stainless Steel Perforated Drill Pipe Screen,Perforated oil well screen
April 26, 2018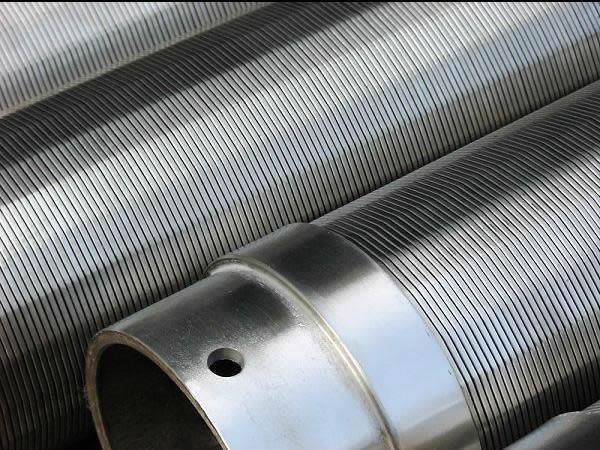 pipe based vee wire screen,Wire wrapped screen
April 30, 2018
Well screen performance is dependent on several factors, including wire and rod shape, construction, steel grade and microstructure, as well as slot accuracy over the full length of the screen. To meet the most demanding requests, Johnson Screens continues to engineer and manufacture stainless steel screens from 2 ft / 0.7 m to 40 ft. / 12.2 m.
screw press screens are used as rotary screens,collectors such as screen Wedge wire cylinders,rotary drum screen, laterals and nozzles.
Resin traps,in-line strainer, water intake screens,well screens as well as many other applications involving liquid and solid separation.
Screw presses are used in a wide variety of dewatering applications, often in the same applications as belt presses, centrifuges, and filter presses. The screw press is a simple, slow moving mechanical device. Dewatering is continuous and is accomplished by gravity drainage at the inlet end of the screw and then by reducing the volume as the material being dewatered is conveyed from the inlet to the discharge end of the screw press.
Applications
Controls sand infiltration in new, high-capacity municipal, industrial and agricultural wells
Can be used as a liner in existing wells to eliminate the need for constructing a new well
Custom applications such as infiltration galleries
Environmental remediations
Horizontal applications
Optimal performance of the screw press is essential for paper quality and cost-effectiveness of a system. Through refurbishment of screen baskets for screw presses, this performance can be improved. It includes, among other things, analyzing the capacity of presses during ongoing operation. This provides valuable information about the wear condition of the screen baskets. The optimal maintenance scenario is for the mill to have a "drop-in" unit consisting of a spare screw, with its outlet bearing arrangement and coupling half pre-installed, together with spare screen baskets.
The repair service for screens in pulp/sludge presses is available for all machine types.
Advantages          
Non-clogging surface
Large open area
Low pressure drop
High flow rates
Great mechanical strength
Abrasion-resistant
Easy cleaning
Flexibility in design
Perfect roundness,smooth surface