gravel pack well screen
November 9, 2017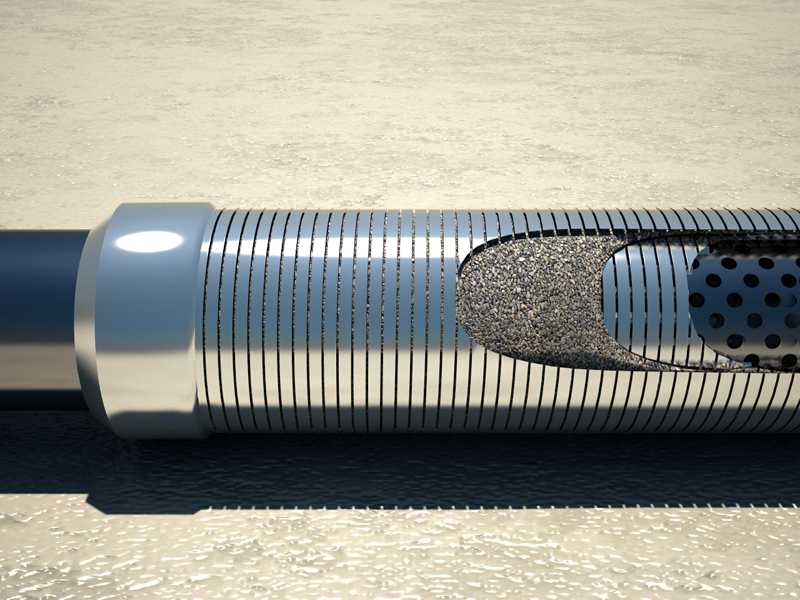 Pre-packed Screens vs Gravel Pack Screen
November 11, 2017
Pipe-based wire wrapped screen is another version of wire wrapped screen. It is suitable for severe environments such as high pressure, high temperature and deviated wells. Pipe-based screen can be easily modified to satisfy most well applications, such as steam, water, injection and waste disposal.
| | |
| --- | --- |
| | |
| Pipe-based wire wrapped screen in stainless steel for corrosive resistance | Pipe-based wire wrapped screen construction |
Materials
Available in stainless steel 304, 316L, carbon steel and special alloys like Monel or as required depending on practical applications.
Features
V-shaped wire creates keystone geometry and self-cleaning performances for lower possibility of clogging.
External forces are directly transferred to base pipe.
Many ribs are designed for collapse resistance.
Wire wrapped screens produces ten times of open area as the size of slotted liners. This significantly improves well life and filtration capacity.
Custom services
Specifications including slot width, the number of ribs, the diameter of base pipe and end fittings and thread connections are all customized for different applications and diverse requirements by customers. Usually, slot width is from 50 micron to 2000 micron.
Construction
Perforated base pipe provides support to the wedge wires which are directly wrapped onto the base pipe. Advanced welding technology welded the screen to the pipe with superior weld strength and accurate slot openings.
Rib wires create a tighter grip between screen and perforated pipe to strengthen and achieve stronger screen..
Wire wrapped screen reduce costs but improve productionWire wrapped screen reduce costs but improve productionWire wrapped screens are typically placed around gravel which separates the screen and the formation. They are widely used in oil field operations and water wells for lowest cost, keystone slots and high manufacturing efficiency.
Pipe-based wire wrapped stainless steel screen in column shape Wire wrapped screenPipe-based wire wrapped screen Wire wrapped screen with keystone slot There are two versions of wire wrapped screens – pipe-based wire wrapped screen and rod-based wire wrapped screen or wedge wire screen. Apart from outer screen, rod and end fitting, pipe-based screen also has an addition – base pipe.
V wire screen in flat or cylinder shapesWire wrapped screen, its slot width is increasing from surface to inner sideWire wrapped screen features continuous slot which maximize the flowing area. Owing to V-shaped screen wire, it is also called V-wire screen. V wire forms keystone slot which is effective in anti-plugging.
Wire wrapped screen are widely used in water well and oil well for its easy installation, quite affordable cost, maximum open area and low possibility of clogging.