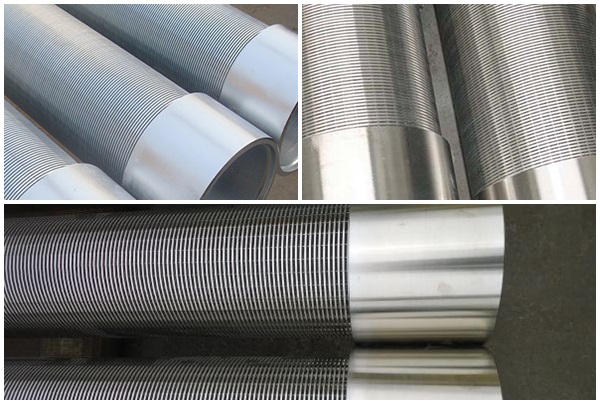 Stainless Steel Johnson Water Well Screen , Johnson type wedge wire slotted screen pipe strainer
September 16, 2017
Johnson screen type wedge wrapped wire screen
September 20, 2017
The filter nozzles are widely used in various industries, especially suitable for water treatment or liquid filtration. The main part of the nozzle is stainless steel wedge wire screen. It's a new type filter component. The filter nozzle has a high precision filtration ability. The minimum slot size is 20 micron.
This term is applied to the components which retain the media and also provide the means for good distribution of water and air (where used). Nozzles may be installed in lateral pipes or in suspended floors. A nozzle has three main components, a strainer to exclude the media or packing gravel, a water control orifice and a tailpipe with an orifice(s) to control the airflow. Nozzles may rely upon the open area of the strainer slots to provide the controlling head loss for good distribution or an independent orifice within the assembly is often preferred. Strainer slots can become partially blocked with media. This will alter the head loss across the slots. If the control orifice is within the body of the nozzle and the slots have a larger open area, there will be less affect by partial blocked slots to the head loss through the nozzle.
Filter Nozzle slot sizes vary considerably from about 0.2mm to around 10mm, larger slots best suited for up flow filters. Slots of 0.2, 0.3 & 0.35mm are commonly used in direct contact with the filter media without the requirement of a gravel layer on top of the nozzles. This direct contact has an advantage for combined air scour and water backwash.
 specifications of water filter nozzle
Type
Slot

(mm)

Dimension
Flow Rating

(M3/H)

D(mm)
H(MM)
L(MM)
Thread
Fittings
GX-0.5
0.25
45
45
90/request
M,NPT, G, PT(BSPT),Z,BSP, request
SS Gasket,

Rubber gasket,

Nut, request

0.5
GX-1.0
0.25
53
45
90/request
1.0
GX-1.5
0.25
57
45
90/request
1.5
GX-2.0
0.25
57
55
100/request
2.0
GX-2.5
0.25
70
55
100/request
2.5
GX-3.0
0.25
70
70
120/request
3.0
* All the above size are the normal size. Customized size is possible.

* Guangxing could help to design according to the application and requirement.

* The nozzles customized range as below:

1. Slot range: 0.05-2mm

2. Dimension: Diameter, Screen Height, Length could produce according to      actual requirement and application

3. Thread according to requirement