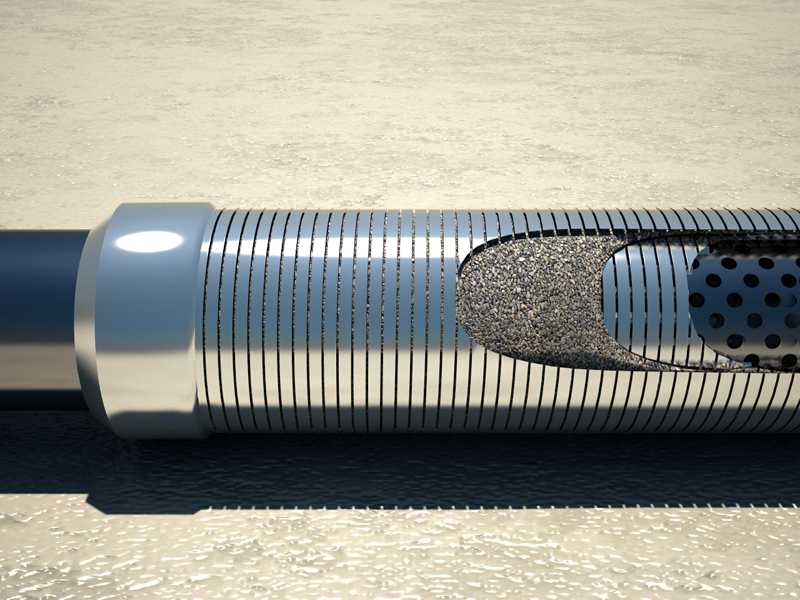 Pre-Pack Water Well Screen Systems, Stainless Steel and Slot prepacked
January 9, 2017
Wedge wire filter pipe _ Johnson well screen
January 27, 2017
The consecutive slot have more open area, and it can reduce the speed of the water entering to avoid the sand entering the Water Well Screens under the great pressure, so it can filter sand better. Meanwhile, the slot of Water Well Screens can change according to the real condition of the earth.
Specifications of SS304L Wedge Wire Continuous Slot Water Well Screens:
1.Material: stainless steel (304,304L,316,316L etc.)
2.Diameter: 244.5mm or from 38-1500mm
3.Slot Size (mm):0.3, 0.5, 0.75, 1 or as per customers' requirement
4.Unit length up to 6m, 5.8m fit for the container
5.Open area 33%
6.End Connection:Welding (beveled end), thread coupling(STC,LTC,BTC) or flange
7.Surface treatment:Galvanized, painted, polish, pickling & passivation,etc.
8.Packing:Bubble bag and woven bag, in bundle or unbundle or in wooden cases.
Product display: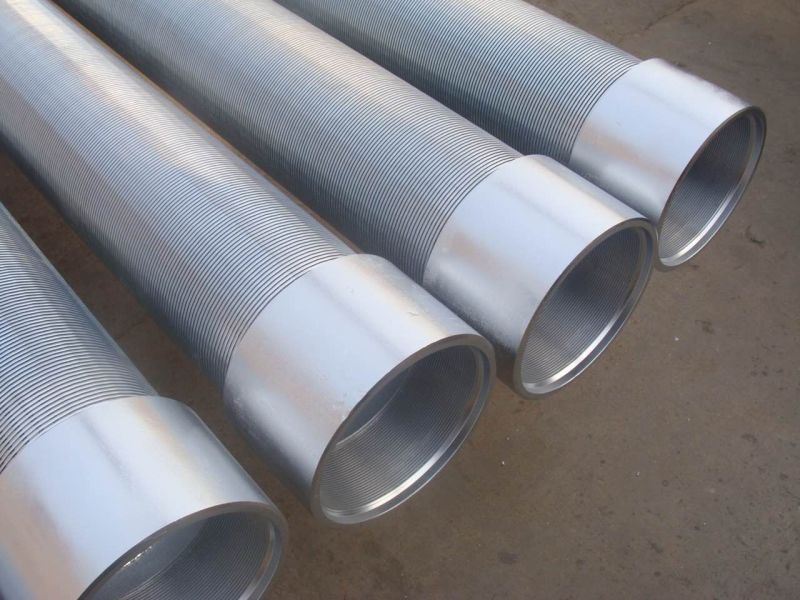 Advantage:
MAXIMIZING FLOW RATES
When considering screens of equal length, diameter and slot size, flow rates through V-shaped well screens can be;
Three times higher than bridge-slot screens
Nine times higher than slotted casing
NON-CLOGGING SLOT
Continuous-slot well screens have V-shaped openings that narrowest at the outer face and widen inwardly, thus, over sized particles are retained outside the screen and particles passing through the narrow outside opening can enter the screen.
REDUCTIONS IN OPERATING COSTS
By using a Continous-slot well screen, savings can be achieved in pumping costs. Lower through-slot velocities mean that pressure drops are minimized, therefore;
Drawdowns are reduced.
Less energy is needed for pumping.
Flow rates are increased.
Less sand in the water reduces wear on the pumps.
Application:
The continuous-slot well screen is widely used throughout the world for water, oil, and gas wells, and is the dominant screen type used in the water well industry.
1.The continuous-slot well screen is recommended in the following situations;
2.Water wells where gravel packs will be installed
3.Thin aquifers, where maximum open area is required
4.Formation comprised of small or fine particles
5.Small diameter wells
Specification of Johnson Screen Stainless Stell Wedge Wire Filter Pipe
Wedge Wire
Width(mm): 1.50 1.80 2.30 3.00 3.30 3.70 Height(mm): 2.20 2.50 2.70 3.60 4.30 4.70 5.60 6.30 7.00
Support Rod
Width(mm): 2.30 3.00 3.30 3.70 Height(mm): 2.70 3.60 4.70 5.60 6.30 Round: From 2.50mm to 6.0mm
Note: other specifications available as per request
Slot Size
0.10, 0.15, 0.20, 0.25, 0.30… 6.00mm also achieved upon request.
Material
galvanized low carton (LCG), stainless steel (304,316 etc.)
Length
 up to 6 meters.
Diameter
 from 25mm to 1200mm.
End Connection
Plain beveled ends, flanged or threaded couplings
OEM support, welcome your drawings / specifications
Stainless steel water well screen comprise of V-shape profile wire and the longitudinal help poles. Each meeting purpose of these wires is combination welded, so Water Well Screens has strong tightening and great mechanical property. The V-shape area plane can stay away from blockage and ensure the unrestricted water.
Pressing and Delivery:
Pressing Details: GUANGXING 304 316L water well screens/wedge wire screen/stainless steel wire networks with string association are gathered with bubble pack or woven sack and afterward with wooden strip or in wooden case(fumigation endorsement).
Conveyance time:GUANGXING 304 316L Johnson V write screen pipe/wedge wire screens/stainless steel wire networks with string association are conveyed with 3-30 days or rely upon amount.
WELL SCREEN PRICES:
Water Well Drilling Stainless Steel Water Well Screens
FOB Price: US $56-110 / Piece Min. Order: 10 Pieces
Material : Metal Layers : Single Usage : Liquid Filter
Stainless Steel Johnson Screens Pipe
FOB Price: US $36-110 / Piece Min. Order: 10 Pieces
Material : Metal Layers : Single Usage : Liquid Filter
Rod Based Well Screens for Water Well Drilling
FOB Price: US $46-99 / Piece Min. Order: 10 Pieces
Material : Metal Layers : Single Usage : Liquid Filter
SS304L Wedge Wire Continuous Slot Water Well Screens for Water Well
Drilling
FOB Price: US $20-500 / Piece Min. Order: 10 Pieces
Material : Metal Layers : Single Usage : Liquid Filter
China 6 5/8″ Stainless Steel Water Well Screen Pipe
Min. Order: 1 Piece
Material : Metal Layers : Single Usage : Liquid Filter
Stainless Steel AISI316L Water Well Screen
Min. Order: 10 Pieces
Material : Metal Layers : Single Usage : Liquid Filter
10inch Stainless Steel 316L Rod Based Well Screens
FOB Price: US $48-219 / Meter Min. Order: 100 Meters
Type : Ozone Water Purifier Usage : Water Filter Motive Force : Vacuum
Stainless Steel Sand Control Wire Wrapped Water Well Screens/Vee Shaped
Wire Wrapped Water Well Screens
FOB Price: US $46-99 / Piece Min. Order: 10 Pieces
Material : Metal Layers : Single Usage : Liquid Filter
Low Carbon Galvanized Water Well Screens
FOB Price: US $46-99 / Piece Min. Order: 10 Pieces
Material : Metal Layers : Single Usage : Liquid Filter
All-Welded Stainless Steel Wire Wrapped Wedge Wire Screen Pipe
FOB Price: US $46-99 / Piece Min. Order: 10 Pieces
Material : Metal Layers : Single Usage : Liquid Filter
Ss Johnson Wedge Wire Screens Cylinder with Male-Female Thread
FOB Price: US $46-99 / Piece Min. Order: 10 Pieces
Material : Metal Layers : Single Usage : Liquid Filter
0.5mm Slot Ss Pipe Strainer/Pipe Filter
FOB Price: US $46-99 / Piece Min. Order: 10 Pieces
Material : Metal Layers : Single Usage : Liquid Filter
Stainless Steel AISI 316L 8-5/8″ Wire-Wrapped (Johnson) Screens
FOB Price: US $20-500 / Piece Min. Order: 10 Pieces
Material : Metal Layers : Single Usage : Liquid Filter
Ss316L Vee Wire Johnson Water Well Screens Pipes China Manufacturer
FOB Price: US $46-99 / Piece Min. Order: 10 Pieces
Material : Metal Layers : Single Usage : Liquid Filter
API STC 8 5/8″ Threaded Rod Based Johnson Well Screens
FOB Price: US $46-99 / Piece Min. Order: 10 Pieces
Material : Metal Layers : Single Usage : Liquid Filter
Stainless Steel 304 Johnson Screens Filter Tube
FOB Price: US $46-99 / Piece Min. Order: 10 Pieces
Material : Metal Layers : Single Usage : Liquid Filter
Stainless Steel 316L Water Well Drilling Johnson Type Screens Pipe
Manufacturer
FOB Price: US $46-99 / Piece Min. Order: 10 Pieces
Material : Metal Layers : Single Usage : Liquid Filter
Pipe Base Well Screen with 304L Wire Wrapped Johnson Screens Pipe Jacket
FOB Price: US $46-99 / Piece Min. Order: 10 Pieces
Material : Metal Layers : Single Usage : Liquid Filter
Wire Wrapped All-Welded Water Well Screens Pipe/Johnson Screens/Wedge
Wire Screens
FOB Price: US $46-99 / Piece Min. Order: 10 Pieces
Material : Metal Layers : Single Usage : Liquid Filter
Continuous Slot Welded Johnson Screens Pipe
FOB Price: US $46-99 / Piece Min. Order: 10 Pieces
Material : Metal Layers : Single Usage : Liquid Filter
8 5/8inch Stainless Steel Johnson Type Water Well Screen Pipe
FOB Price: US $46-99 / Piece Min. Order: 10 Pieces
Material : Metal Layers : Single Usage : Liquid Filter