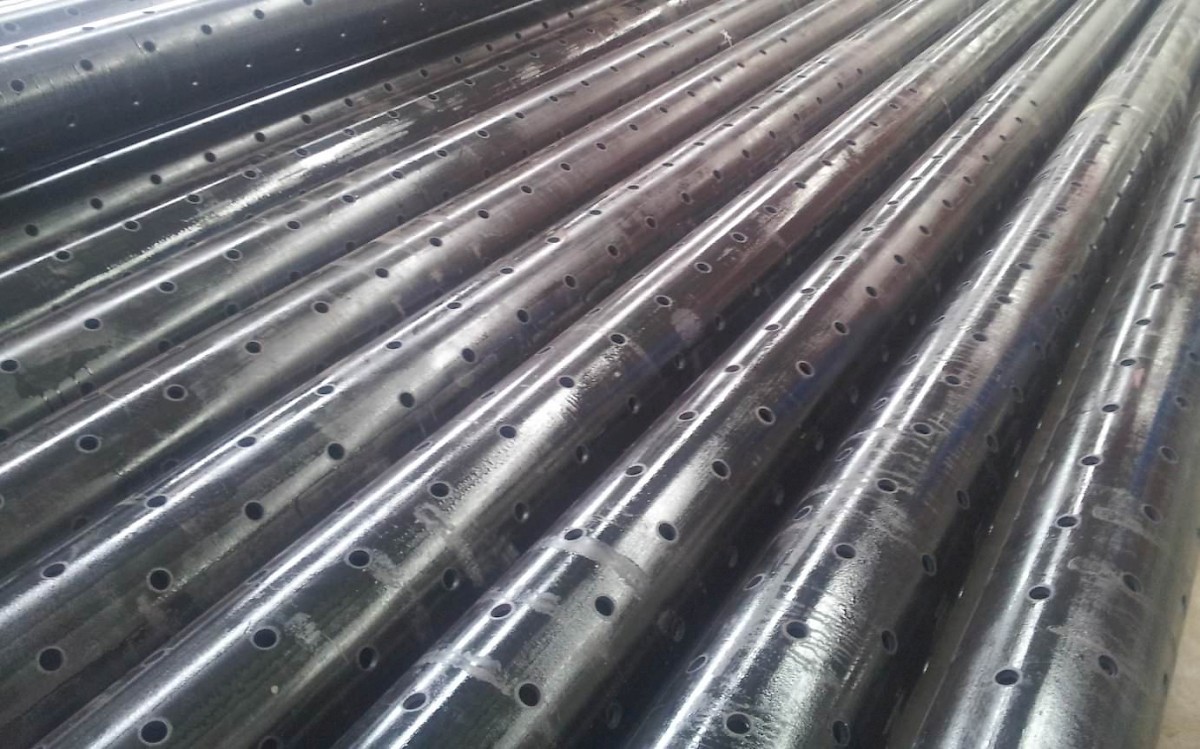 API Slotted Liner pipes
March 29, 2018
Perforated Casing Filter Pipe
April 17, 2018
bridge type water filter pipe,Bridge Slotted Well Screens
Bridge Slotted Well Screens is the perfect choice of water well screens because of its unique construction, excellent mechanical
strength and water entering capability. The galvanized bridge slotted screens prolong the service life of water wells. Besides,
bridge slotted screens have versatile end connection types and are easy to install.
The Spiral style Bridge slot screen is a kind of spiral screen pipe which has the bridge shape slot,it's welded by the double-side automatic submerged arc welding technology.Compared with the traditional Bridge slot screen, it's welding line is more full and even, more reasonable in design and with a unique structure,more sophisticated and with a reliable quality.The compression resistance of the screen is much
higher than the traditional one's.The screen is the ideal substitute product of modern drilling industry which is also applied in hydrogeologic prospecting,well drilling,shaft sinking ,
reservoir precipitation , foundation dig precipitation ,ming & mineral processing ,geothermal exploitation ,mineral water supply, metallurgical geology,refining & petrochemical ,geothermal air-conditioner ,broken well remediation, underground water lifting,agricultural transformation,city water supply,etc.
Pipe sizes
OD: from 114-630 mm
WT from 3 mm/0.12 in. to 10mm/0.4 in.
Lengths up to 6m
Materials of construction
All types of steel such as carbon steel, galvanized steel, coated steel and stainless steel types 304, 304L, 316, 316L & 430, for example.
Technical data of the Bridge Slotted Screen :
Diameter(mm)
146
159
219
273
325
377
426
529
ID
130
140
138
200
198
254
250
246
305
300
297
357
350
346
406
400
398
502
500
498
Thickness
5
5
6
5
6
5
6
8
5
6
8
5
6
8
5
6
8
6
7
8
Coupling OD
146
160
162
220
226
274
278
278
325
328
329
377
378
379
426
428
432
529
530
531
Slot Sizes and Open Area :
Thickness
5
6
8
Slot Size
0.75
1
1.5
2
2.5
0.75
1
1.5
2
2.5
0.75
1
1.5
2
2.5
Transverse Pitch
of Bridge
12.75
15
16
Longitudinal Pitch
of Bridge
45.50
52
62
Slot Radio
15.5%
17%
21%
24%
26.5%
14.5%
15.7%
18.9%
22.2%
25.7%
13.5%
14.5%
17.9%
21.2%
24.1%
Galvanzied Bridge Slotted Screen for Water Well Drilling / Water Well Bridge Slotted Pipe
Water Well Drilling Bridge Slotted Screen / Bridge Slot Screen in Carbon Steel
Carbon Steel Bridge Slotted Well Casing Screens
Black Oil Bridge Slotted Screen Water Well Sand Control Filter Well Screen
Galvanized Bridge Slotted Screen/Deep Well Water Well Screen with High Strength
9′′5/8 Stainless Steel 304 1.0mm Slot Bridge Slotted Screen Used for Water Irrigation Well
Stainless Steel 304 Water Well Bridge Slotted Screens for Irrigation Well
6′′5/8 AISI 304 Bridge Slotted Screen for Drill Borehole Completion Well
Bridge Type Slotted Screen/Deep Well Strainer Pipes/ Water Well Screen
168*4mm Bridge Slotted Screen Used in Water Filtation
219*5mm Bridge Slotted Screen/Sand Control Water Well Screen
Stainless Steel Bridge Slotted Screen
ASTM a 53 Carbon Steel Bridge Slot Screen / Bridge Slotted Screen / Bridge Slot Screen
Min. Order: 60 Meters
ASTM A53 Od10 Inch Water Well Bridge Slotted Filter Screen for Water Well Drilling / Bridge Slotted Filter
Base Pipe Double Layers Bridge Slotted Screen
Carbon Steel 80-1200mm Bridge Slotted Screen for Water Intake Well Complete
ASTM A53 Carbon Steel High Quality 8inch Water Well Bridge Slotted Screen/ Bridge Slotted Screen for Well Drilling
Ss and Carbon Steel Bridge Slotted Well Complete Screen for Water Intake
Bridge Slot Type Water Well Screen
AISI 304 6′′5/8 1.0mm Slot Bridge Slot Screen for Geothermal Well
168*5 Water Well Bridge Slot Screen
2016 Bridge Slotted Screen/Deep Well Strainer for Lifting Ground Water
ASTM A53 6′′ 5/8 4.5mm Thickness Bridge Slotted Filter Pipe
High Strength Spiral Welded Bridge Slotted Screen Pipe
Pass SGS BV Testing 10′′3/4 Bridge Slotted Pipe for Oil Gas Completion Well
Huadong Hot Sale Galvanized Bridge Slotted Pipe / Slotted Sceren
China Factory ASTM ERW Q235 Water Well Bridge Slotted Screen, Water Well Slotted Pipe
Bridge Slotted Screen/Deep Well Strainer for Lifting Ground Water