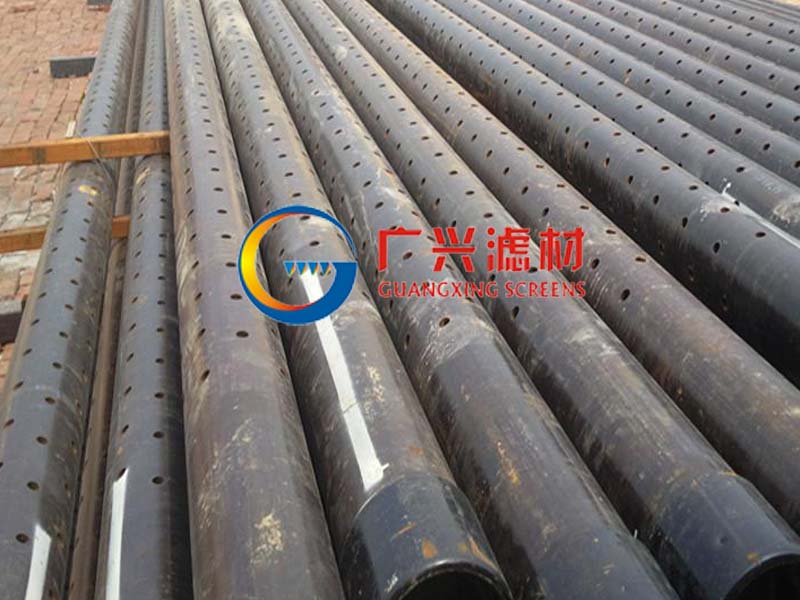 Perforated well casing and screen
November 23, 2017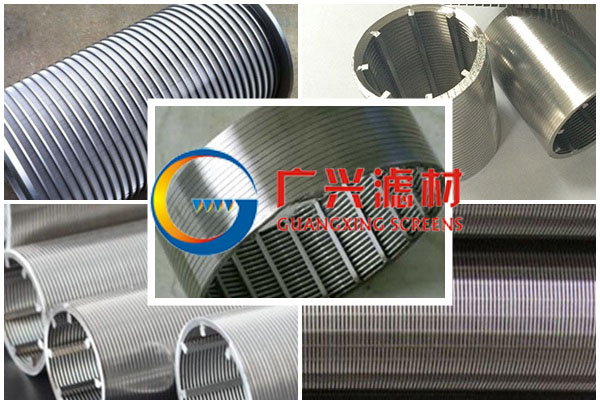 Johnson V Wire Water Well Screen,screen wire
November 29, 2017
A pre-packed well screen consists of one screen telescoped inside another, with an annulus filled with filter pack at the factory before shipment. The pre-packed screen is designed especially for high capicity wells, these screens offer unique advantages over conventional rod based screens with respect to strength. it features include: collapse strength equal to pipe; double the tensile strength of standard rod based screen; a bioresistant, hydraulically superior (to silica sand) pack; a greater percentage of open area(for deep applications) than that of a conventional screen, due to the dual support construction.
For the pre-packed screen, base pipe can apply perforated casing with API standard, bridge slot pipe, or continuous slot well screen, while in the middle layer, the filter media could be quartz sand, wier mesh, metal fibre,ceramic beads , etc. The screen jacket could use continuous slot screen, bridge slot pipe.
Pre-packed screens are ideal for horizontal boreholes and boreholes that deviate from vertical. the pre-packed screen is well suited for situations where placing a conventional gravel pack is difficult. the screen assembilies save time and reduce logistical planning, because no handling and no installation of bulk pack material is needed.
Several important criteria need to considered selecting proper gravel pack screen for an oil or gas well.
LENGTH
The screen should be long enough to lap over the perforated interval. A good rule of thumb is to allow five feet top and bottom.
SIZE (CIRCUMFERENCE)
Apollo screens recommends that the annular area between the O.D. of the screen and the I.D. of the casing be at least one inch. This prevents the gravel from bridging before it reaches bottom and facilitates wash over procedures.
LENGTH OF BLANK PIPE
Blank Pipe allows for a reserve of gravel so that when the gel breaks the gravel will be able to cover the screen. A general rule is that using 15lbs. of gravel to one gallon of gel results in a 40% loss of gravel volume. If the space is available uphole, factor of three is applied. for example, 30 feet of screen requires 90 feet of blank pipe.
MATERIAL SELECTION
The screen material is 304 stainless steel which is adequate in 95% of the cases. 316L stainless is normally carried in stock and is used in some more corrosive environments. The pipe base is normally J-55, but L-80 and N-80 are carried in stock with other grades available through special order. If necessary, the pipe base can be coated. Whenever material selection is in question, simply consult a Apollo representative for assistance.
CENTRALIZERS
All gravel pack screen and blank pipe should be centralized so that the gravel falls evenly around all sides. Placing steel centralizers every 15 feet is normal and adequate in most cases. Steel is normally used in shallow holes without a serious deviation and also where no sump packer is involved ( a broken centralizer could cause serious damage to the sump packer) Steel should not be used if acid will be used prior to gravel packing.
SLOT SIZE
The Slot size is determined by the formation grain size. Current Practice is to size the gravel five to six times larger than the formation grain size and then pick a screen slot that will retain 70-80% of the gravel.
1.Layer:Two
2.Minimum slot:0.1mm
3.Standard length:1-6meters
4.Another name:gravel pack screen pipe
5.Screen jacket: Johnson screen
6.Screen Packing tower is equipped with high -intensity shaker to ensure filter media is tightly packed for optimal sand control
SIZE

(inch)

O.D

(mm)

SLOT

(inch)

LENGTH

(m)

Collapse

Strength

(psi)

Tensile

Weight

(ton)

Wire size

(mm)

RODS (mm)
4
117
0.040
3
395
6
2.2*3.0
3.8mm/22
4
114.3
0.040
3
395
6
2.3*3.0
3.8mm/22
6
168.3
0.040
3
252
8
2.3*3.5
    3.8mm/32
8
219.1
0.010
3
399
10.5
3.0*5.0
    3.8mm/48
8
219.1
0.020
3
370
10.5
3.0*5.0
    3.8mm/48
8
219.1
0.040
3
323
10.5
3.0*5.0
   3.8mm/48
10
273.1
0.010
3
206
11
3.0*5.0
   3.8mm/50
10
273.1
0.020
3
191
11
3.0*5.0
   3.8mm/50
10
273.1
0.040
3
167
11
3.0*5.0
   3.8mm/50
Features of Well Screens and Gravel Packs
1Minimum entrance velocity.
2Maximum open area of screen.
3Correct design of slots to minimize blockages.
4Slot size should match aquifer or gravel pack medium.
5Screen material should be corrosion resistant.
6Screen should allow for periodic maintenance.
Gravel Packing Screen, Well Screens and Gravel Packs,Prepacked Well Screen for Drilling Wells