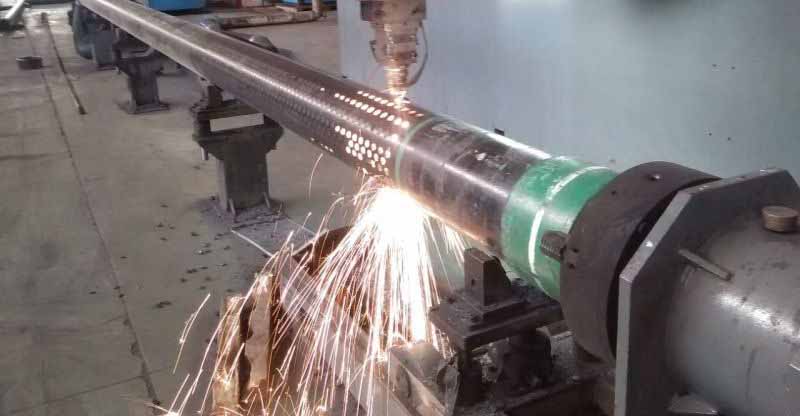 Round Hole water well Perforated Screen Pipe,Perforated Pipe
May 3, 2018
stainless steel wire wrapped continuous slot Johnson screen
May 21, 2018
Stainless wedge wire filter elements is a sieve made tram looped wires formed into deep wedge-shaped section. Individual wedge wires are built into 'Panels" by threading cross rods of suitable diameter through the loops. The whole is then clamped and made secure usually by riveting or putting ring nuts over the cross rod ends or by welding.
Product Features : 1. No obstruction , V -shaped screen strips form a wedge-shaped gap to ensure no blockage.
          2 , high-precision screen seams, automatic welding to ensure the accuracy of the screen seam.
          3 , easy to clean, surface material can be removed by scraper back blowing.
          4 , low pressure loss, high mechanical properties.
          5 , long life, low maintenance costs.
Material: 304 , 304L , 321 , 316L , 2205 , 904L , Hastelloy, etc.
Product Advantages Features
1. Application of trapezoidal wire to form Vee-shaped openings between screen gaps. This design is more efficient than other forms of product operation and ensures smooth water filtration.
2. The continuous winding of the trapezoidal wire forms a continuous high-density uniform gap on the support wire in a circumferential arrangement, which ensures the open area and non-obstruction of the screen, and avoids the high-density deposition of deposits, in order to increase production efficiency and Extending the useful life of wells provides assurance.
3. Wire-wound and all supporting wires are welded together for durability and long life cycle.
4. According to the actual needs of the design of the support wire longitudinal arrangement and screen seam continuity gap, making the product has a higher compression performance.
5. The superior performance of the product has improved the working efficiency and life cycle of the well, making it a leader in water filtration equipment.
Wedgewire filter elements are used as sieves and filters for various industries, especially suitable for low maintenance applications. It is a new type filter component fabricated from Fine Mesh Slot Opening Stainless Steel Wedge Wire Panels. filter elements can be re-used repeatedly. The precise filter ratings are from 30 to 80 microns. Available in the form of tubes, panels, filter cylinders and bags and special filter elements. It is made by welding with profile wire on every connection spots.
Well Screen Tube/ Johnson Filter Pipe Screen/ V Wedge Wire Screen Filter
FOB Price: US $30-100 / Meter
Min. Order: 100 Meters
Water Well Sand Control Filter
FOB Price: US $45-120 / Meter
Min. Order: 65 Meters
Stainless Steel Water Filter for Well Drilling
FOB Price: US $30-160 / Meter
Min. Order: 36 Meters
304L Stainless Steel Wedge Wire Screen for Well Drilling
FOB Price: US $35-150 / Meter
Min. Order: 50 Meters
Video
Stainless Steel Wedge Wire Screen
FOB Price: US $35-100 / Meter
Min. Order: 58 Meters
Carbon Steel Wedge Wire Screen for Drilling
FOB Price: US $46-160 / Meter
Min. Order: 50 Meters
V Wire Wedge Wire Filter Screens
FOB Price: US $46-99 / Meter
Min. Order: 60 Meters
Hot Sell Product for Drilling API Standard Wedge Wire Screen
FOB Price: US $60-160 / Meter
Min. Order: 60 Meters
Hot Sell Supply New Type Stainless Steel Wedge Wire Screens Filter Johnson Screen
FOB Price: US $45-150 / Meter
Min. Order: 70 Meters
168mm Polish Ss 304L Wedge Wire Well Screen
FOB Price: US $45-120 / Meter
Min. Order: 65 Meters
Stainless Steel 304 Wedge Wire Screen/ Wedge Wire Screen for Well Drilling/ Wedge Wire Screen
FOB Price: US $20-100 / Meter
Min. Order: 1 Meter
Stainless Steel Water Well Screen Pipe
FOB Price: US $20-100 / Meter
Min. Order: 1 Meter
Continuous Slot Water Well Screen
FOB Price: US $33-100 / Meter
Min. Order: 50 Meters
Continuous Slot V-Shaped Wire Water Well Screen
FOB Price: US $45-120 / Meter
Min. Order: 58 Meters
All-Welded Stainless Steel Wire Wrapped Wedge Wire Screen Pipe
FOB Price: US $20-100 / Meter
Min. Order: 1 Meter
Johnson Wedge Wire Screens Cylinder with Male-Female Thread
FOB Price: US $20-100 / Meter
Min. Order: 1 Meter
Wire Wrapped All-Welded Water Well Screens Pipe/Johnson Screens/Wedge Wire Screens
FOB Price: US $20-100 / Meter
Min. Order: 1 Meter
SS304L Wedge Wire Continuous Slot Water Well Screens for Water Well Drilling
FOB Price: US $20-100 / Meter
Min. Order: 1 Meter
316L Welded Coupling Deep Well Johnson Type Water Well Screen Pipes/Wedge Wire Screens
FOB Price: US $20-100 / Meter
Min. Order: 1 Meter
Stainless Steel Wedge Wire Screen/Water Well Johnson Screen Pipe with Thread Coupling
FOB Price: US $20-100 / Meter
Min. Order: 1 Meter
Stainless Steel Johnson Screen Water Well Pipe Filter Wege Wire Screens
FOB Price: US $20-100 / Meter
Min. Order: 1 Meter
Stainless Steel AISI316L Water Well Screen
FOB Price: US $20-100 / Meter
Min. Order: 1 Meter
Stainless Steel Johnson Screens Pipe
FOB Price: US $20-100 / Meter
Min. Order: 1 Meter
China 6 5/8″ Stainless Steel Water Well Screen Pipe
FOB Price: US $20-100 / Meter
Min. Order: 1 Meter