Laser Cutting Slotted Pipe for Horizontal Completion Well
November 11, 2017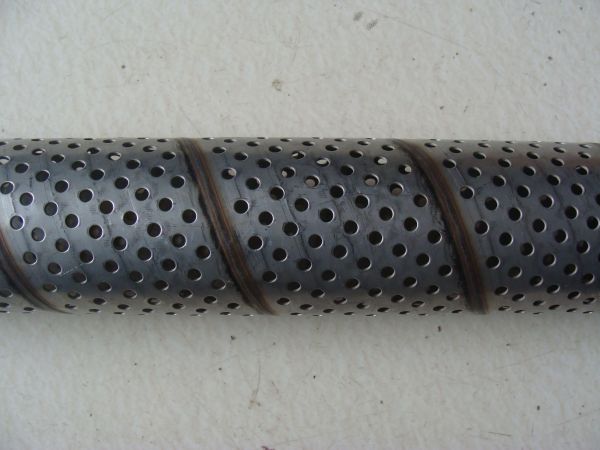 Perforated Casing Filter Pipe stainless steel
November 15, 2017
stainless steel johnson v wire water well screen is manufactured by a V or wedge shaped wire around an internal array of longitudinal support rods. Each intersection point of this wire is fusion welded. The V or wedge shaped profile wire wraps around the support rods over the full length of the screen creating a continuous slot opening, hence the screen allows water (oil) to enter your well freely in ample quantities while at the same time keeps the majority of sand and gravel out of the well.
round v wire 1.00mm slot Johnson water well screens are used for oil and water exploiting.  The consist of V-shape profile wire and the longitudinal support rods. Each interseting point of these wires is fusion welded, so Johnson water well screen has sturdy constriction and good mechanical property.
Water well screens are also known as Johnson screens, wedge wire screens, wire wrapped well screens, rod based well screens, continuous slot water well screens, vee shaped wire well screens, screen pipe, stainless steel strainer.
Guangxing is a professional manufacturer of water well screens, Johnson screens, wire wrapped well screens, continuous slot vee shaped wire well screens, wedge wire screens , oil well screens, bridge slotted well screens, rod based well screens, pipe based well screens, API casing, ISO tubing, steel pipe, steel tube.
specifications of Stainless Steel 304 10in Rod Based Johnson Screen:
1.Material: stainless steel 304, or other materials like 304L,316,316L etc
2.Diameter: 273mm, or from 38-1500mm
3.Slot Size (mm):0.2 or as per customers' requirement
4.Unit length up to 6m, 5.8m fit for the container, 2m and 3m are also available
5.Open area 33% or depends the wire size
6.End Connection: Welding (beveled end), thread coupling(STC,LTC,BTC) or flange
7.Surface treatment:polish, pickling & passivation,etc.

The strainer is a kind of filtered water tubing with the perforation .it can use with the deep
well pump, dive the water pump, also may use in the water-treating equipment, the environmental protection, the sea water transforms into the industrial
water and life use water desalination treatment, running water treatment, water softening
treatment, the petroleum industry: The petroleum product terminal filters and the chemical acid,
the alkali liquid filters, the ethyl alcohol and so on the organic solution recycling filters.