Johnson Wedge Wire Screen Filter Cartridge
December 12, 2017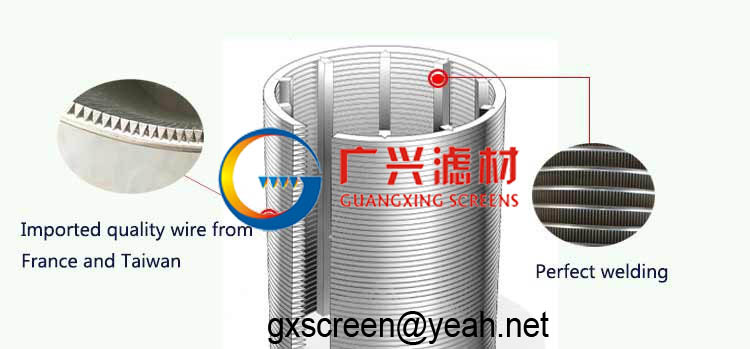 What is the difference between an Well Screen Pipe and Johnson Well Screen for water filter
December 16, 2017
A pump screen is a combination of a coarse stainless-steel shield and a fine screen that completely covers the pump. This disallows sand and gravel particulates from entering your water feed stream. This does slow the gallons per minute (GPM) of the pump while still allowing enough water to supply the house.
Guangxing provides stainless steel (SS) well screens, casings, and fittings in a wide range of sizes, lengths, and styles for use in water and environmental wells where performance and longevity are of the utmost importance. Screens, casings, and fittings are available in 304, 304L, 316, and 316L stainless steel.
Interior removable stainless steel screens (placed over racking valves) allow pump-overs without skins which can minimize maceration. Positioning over the drain allows static draining without solids. Available in the economical perforated or slotted screen designs, these screens are custom-designed to fit your needs.
Features, Advantages and Benefits of stainless steel pump screen
The unit incorporates a high-performance, reservoir interface. This feature protects against sand infill and liquid loading to enhance production and extend pump life. It also prevents premature rod-pump failure caused by solids production, extending equipment life while preventing nonproductive time (NPT).
Unique, rugged, corrosion-resistant, matrix-metal, stainless steel-screen design with standard 100- micron control point results in lower pressure drops for longer service life and higher production flow.
Heavy-duty stainless steel pump screen style shroud enhances flow vectoring attenuation of fluids, and flow distribution in perforated cased hole completions.
stainless steel pump screentprovides cost-effective, easy installation and protects the rod pump from excessive wear—minimizing capital costs to replace failed rod pumps, as well as avoiding NPT.
Integrated pumping sump increases rod-pumping-productivity.
System design can accommodate oil or gas wells of any size.
SIZE

(INCH)

O.D

(MM)

SLOT

(MM)

LENGTH

(M)

COLLAPSE

STRENGTH

(BAR)

TENSILE

WEIGHT

(TON)

WRAP WIRE

(WIDTH*HEIGHT)

(MM)

RODS

(MM)

3-1/2

88.9

1.0

2.9

>22

10.2

2.0*3.5

 3.8MM/22

4-1/2

114.3

1.0

2.9

>28

11.5

2.2*3.5

3.8MM/22

6-5/8

168.3

0.75

5.8

>40

12.8

2.2*3.5

3.8MM/32

6-5/8

168.3

1.0

5.8

>33

12.8

2.2*3.5

3.8MM/32

6-5/8

168.3

0.63

5.8

>83

45

3.0*4.6

4.0MM*32

8-5/8

219.1

1.0

5.8

>34

21.9

2.2*3.5

3.8MM/48

8-5/8

219.1

1.0

5.8

>50

38.2

3.0*4.6

4.0MM/48

8-5/8

219.1

1.0

5.8

>60

46

3.2*6.0

5.0MM/48

10-3/4

273.1

0.75

5.8

>50

32.9

2.2*3.5

4.0MM/55

10-3/4

273.1

1.0

5.8

>60

39.5

3.0*4.6

4.2MM/55

10-3/4

273.1

1.0

5.8

>100

48

3.2*6.0

5.0MM/55

12-3/4

323.9

1.0

5.8

>120

37.2

3.0*5.0

4.0MM/50

14

355.6

1.0

2.9

>80

37.8

3.0*5.0
Well screens (filtering devices) are attached to the bottom of the casing, allowing water to move through the well, while keeping out most gravel and sand. The most popular filtering devices for water wells are continuous slot (wire-wrapped) screens and perforated liners. Continuous slot screens are usually made of wire wrapped around a series of vertical rods. Perforated liners feature slots or holes cut or drilled into steel or plastic casing at set distance. Pipeless well screen designed for effective downhole sand control with minimum pressure drop. It provides maximum inlet area and has more open area per foot of screen length than any other all welded screen design. The screens high collapse and tensile strength coupled with a competitive cost structure make it a superior alternative to slotted casing. It is versatile and adapts to many types of applications. The screens are custom built using different combinations of support rods and V-shaped profile wire to meet specific well conditions.
applications of stainless steel pump well screen
With high-precision,our wedge wire filter elements are used in water treatment industry,oil filtration,paper making,refine sugar.
Materials: Carbon steel wire, SS304,SS316, SS304L ,SS316L.